19th Annual Student Life Awards
There are 10 Student Life Award Categories that recognize a variety of student leaders of the MMA student body, one category that recognizes an organization, event or activity and one student nominated award that recognizes a faculty or staff member.  The Student Life Awards Committee has reviewed all nominations and selected the top five nominees in each award category. One overall awardee from each category will be announced as the award winner at the banquet.
Schedule and Information
(event begins at 7:00pm ET)
Welcome
Presenters | Deidra Davis and President Brennan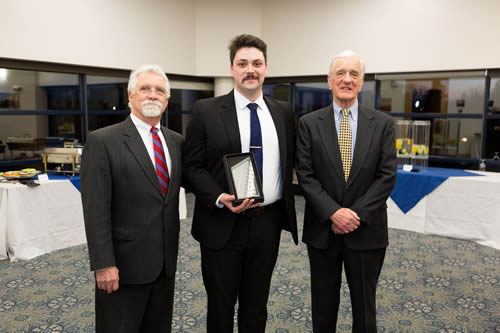 Gathering Thoughts
Presenter | Tricia Carver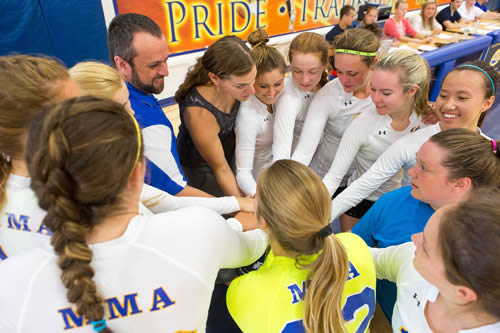 Athletic Integration Award
Awarded to a student-athlete (intramural, club, or varsity) who has impacted campus life through leadership and collaboration with others.
Presenter
Steve Peed
Nominees
Emily Conway
Eryn Doiron
John Friend
Nathan Granholm – WINNER
Maggie MacMahon
Emerging Leader Awards
Awarded to two students who have emerged as leaders and who can be expected to contribute significantly to the campus community and the welfare of their fellow students during their time at the Academy.
Presenter
Jeff Taub
Nominees
Rachel Borisko
Griffin DesMarteau
Sarah Gilmore – WINNER
John Hall – WINNER
John Watt
Non-Trad Student Impact
Awarded to a non-traditional student who has used their life experiences to make a significant impact in the campus community, while promoting and demonstrating excellence in aspects of their college experience
Presenter
Anne Kowalski
Nominees
Finn Becker
Joshua Blaine – WINNER
Brian Graff
Jeffrey Huhn
Nickolaus Lewis
Outstanding Collaboration
Awarded to a student who has collaborated with multiple constituencies. This student has led with integrity to unify the student body and make significant contributions to the greater campus community.
Presenter
Lonnie Christian
Nominees
Keith Jordan – WINNER
Olivia LeBlanc
Maggie MacMahon
Caiden Shea
Avae Traina
Outstanding Contribution to Res Life
Awarded to the student who has promoted community in the residence hall through respect, fairness, and inclusion.
Presenter
Janice Folk
Nominees
Rachel Bunker – WINNER
Sarah Gilmore
Maxwell Mattson
Bryant Peterson
Nicholas Racioppi
Student Employee of the Year Award
Awarded to a student worker who has demonstrated a high quality of work, leadership skills and who has made a significant impact on the department or departments in which they work.
Presenter
Janice Folk
Nominees
George Albert – WINNER
Rachel Bunker
Derek Chapman
Jakob Hemmerlein
Avery O'Neal
Student Government Association Leadership Award
Awarded to a student affiliated with the Student Government Association who has shown immense integrity and perseverance in striving to improve student life and welfare.
Presenter
Elizabeth True
Nominees
Elise Allen
Oliver Higgins – WINNER
Keith Jordan
Gloria Kelley
Jessica Lindsay
Mariner Pride Award
The Mariner Pride Award is a community-wide nomination that honors an organization, event, or activity that enhances Mariner Pride by bringing people together and helping to strengthen the campus community.
Presenter
Elizabeth True
Nominees
Monomoy Team 2019
Ocean Studies Department
Sea Scouts Organization
Women's Basketball Team
Women's Volleyball Team – WINNER
Sarah F. Hudson Unsung Mariner Award
The Sarah F. Hudson Unsung Mariner award is presented to a faculty or staff member who demonstrates outstanding community service and support of student life.
Presenter
Susan Loomis
Nominees
Chris Grindle – WINNER
Amy Gutow
Riana Sidelinger
Christine Spratt
Kyle Willette
Phyllis Tenney Community Service and Leadership
Awarded to the student who has displayed outstanding dedication and loyalty to MMA, commitment and service to the Castine community, exemplary leadership skills, and has also achieved great success academically and socially at MMA.
Presenter
Deidra Davis / President Brennan
Nominees
Geoffrey Knight – WINNER
Abigail L'Abbe
Mary Shea

Questions or requests about disability-related access or accommodations for public events should be directed in advance of the event to MMA's Accessibility Services at 207-326-2489 or accessibility.services@mma.edu.