Bring your curiosity, motivation, and desire for a rewarding career at sea or shoreside to Maine Maritime Academy. Through small, student-centered classes, hands-on labs, and real-world experiences, Maine Maritime will help you achieve your career goals in engineering, management, science, or transportation.
Since 1941, Maine Maritime has prepared graduates for work that requires the skills, knowledge, and ethics to not just land a job, but to succeed in the global economy — and in life. Discover who you are and who you're meant to be: Apply today to Maine Maritime!
College Admissions
Contact one of our dedicated college admissions counselors at Maine Maritime and begin to chart your path to your future. We also invite you to explore information about the college admissions process by first choosing the category below that fits your status:
First-Time Freshman
If you're a high school student, a high school student who has earned college credits, or an individual who has never attended college, see our college admissions section for first-time freshmen.
Home-Schooled Student
If your secondary education has been primarily completed at home and in the community instead of at a public or private high school, see our college admissions section for home-schooled students.
Transfer Student
If you were previously enrolled in another college or university after the summer following your high school graduation, see our college admissions section for transfer students.
Veterans
If you're a former member of the Armed Forces of the United States who served on active duty and were honorably discharged, see our college admissions section for veterans.
International Student
If you are not a citizen or permanent resident of the United States, see our college admissions section for international students.
Graduate Student
If you hold a bachelor's degree and are interested in pursuing a graduate degree in international business and logistics, see our college admissions section for graduate students.
MMA Prep
Are you missing some prerequisite courses? Need an academic boost before you apply to Maine Maritime? Consider MMA Prep. Learn more about Maine Maritime's college preparatory program.
Former MMA Student
If you are a former Maine Maritime student you may request readmission. If you were granted a leave of absence from Maine Maritime Academy you can request a return from leave of absence.
90%
employed within 90 days of graduation
35
acre campus on Castine Harbor
Admission Deadlines
Complete your college admissions application in early fall to have the best chance of being admitted before your specialized major fills up. Learn more about Maine Maritime admission deadlines.
Academic Requirements
The academic requirements for undergraduate admissions vary depending on your major. Review Maine Maritime academic requirements for your specific major and contact a college admissions counselor if you have any questions.
If you're missing some prerequisite courses or need an academic boost before applying to Maine Maritime, explore MMA Prep.
Visit Maine Maritime Academy
Visiting Maine Maritime is the best way to see if MMA is for you:
Take a tour led by current Maine Maritime students
Shadow a student for the day
Stay overnight on campus and attend classes the next day
Attend an Open House
Plan a visit to Maine Maritime now. We also invite you to take a Maine Maritime virtual tour or view the MMA Waterfront Webcam.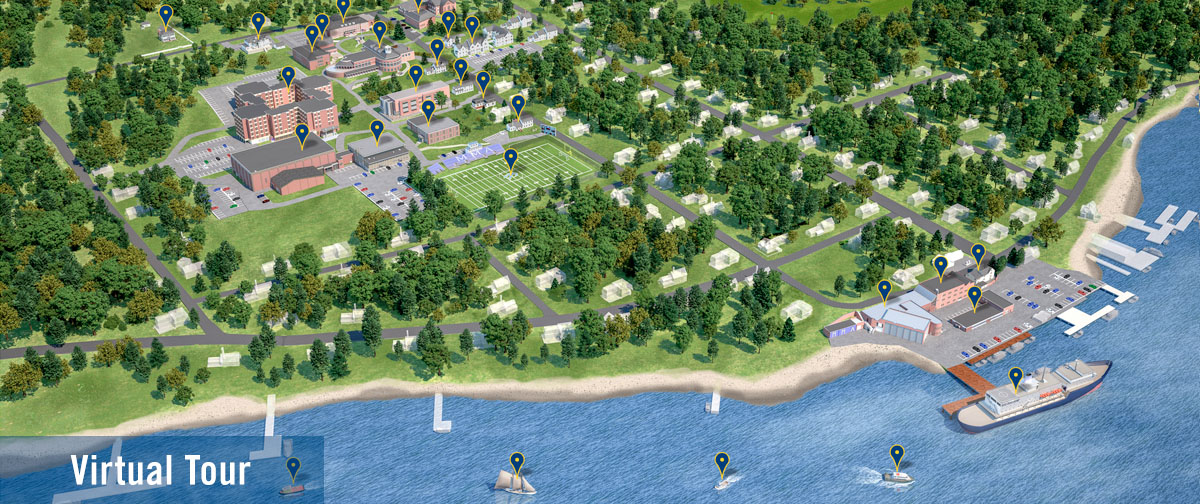 College admissions events
Our college admissions team frequently hosts and attends college fairs and events around the country to help students just like you learn more about Maine Maritime Academy. Search for Maine Maritime college admissions events in your area.
Financial aid and scholarships
The financial aid office at Maine Maritime is here to help you understand how to finance your education and to guide you through the financial aid process. About 96% of Maine Maritime students receive financial aid, such as grants, federal work study, and loans. Scholarships are also available, including merit and need-based scholarships.
FAQs about college admissions
You and your family likely have a lot of questions about Maine Maritime Academy. Our frequently asked questions may address some of them and we invite you to contact college admissions if you need more assistance.