Regimental New Student
Welcome aboard, Midshipmen Under Guidance (MUGs)!
We look forward to welcoming you to campus as part of this year's New Student Orientation (NSO) experience. While you're here, you will meet future shipmates, get fitted for your Regimental uniforms, and practice ship-jumping skills in our indoor pool. Each activity is designed to introduce you to the mission and values of the Regiment and to prepare you for Regimental Preparatory Training (RPT).
In addition to the in-person experience, this year's NSO experience also contains virtual offerings to help you prepare for your career at MMA. For more information about what to expect, be sure to explore the 2021 New Student Orientation webpage. This page will be updated regularly over the coming months, so check back often!
Important information about packing, uniforms, and training is included below. A careful review of each document will help make sure you are prepared for success once you arrive at MMA!

Packing

Uniforms

As the summer progresses, please also keep an eye on the Fall 2021 webpage for updates and information about on-campus activities. Similarly, we encourage you to check your MMA email regularly; the Dean of Student Services, the Financial Office, the Registrar's Office, the Athletics Department, and the Commandant's staff will all use this email address to communicate important information to our students. If you have questions about activating your email or accessing NSO materials, please contact us.
We are proud that you've chosen Maine Maritime Academy and are looking forward to welcoming you to MMA in person soon. In the meantime, stay connected, and please be in touch with questions!
PERSONAL APPEARANCE (MEN)
Hair
Hair will be neatly trimmed, clean, and will present a well-groomed appearance.  Hair on the back of the neck will not touch the collar and be evenly tapered to the bottom of the hairline. Individual hairs on the back of the neck will not extend outward greater than ¾ inches and must not touch the collar.  Hair will be no longer than two (2) inches in length fully extended on the upper portion of the head and the sides must be blended to the top length.  Sideburns are neatly trimmed and tailored in the same manner as the haircut.  Sideburns are styled without taper and extend no lower than the middle of the orifice of the ear and will end with a clean-shaven horizontal line.  "Muttonchops", "Ship's Captain" or other grooming models are not authorized.  Sideburn individual hairs do not exceed ½ inch when fully extended.  Hair will be groomed so that it neither touches the ears or collar, extend below the eyebrows when headgear is removed, nor interfere with proper wearing of headgear.  The primary consideration remains a neatly groomed appearance for the hairstyle and the type of hair the Midshipman has.  Eccentric haircuts are not authorized, i.e. Mohawks, beaver pelts, layered, shaved, plaited, or the adding of any usual hair coloring, etc.
MUGs
During RPT, MUGs will receive a crew cut as their first haircut in the Regiment.  This crew cut will not be shorter than 1/8 inch.  After RPT, the MUGs will be able to grow their hair out to the Midshipman standard.  During that time, visits to the barbershop may be required to keep the hair within neatness standards described above.
PERSONAL APPEARANCE (WOMEN)
Hair
The purpose of hair regulations is to promote a neat and professional appearance.  Keep hair clean, neatly shaped, and arranged in a professional style.  When in uniform, hair shall be worn so that it does not fall below the bottom of the collar.  This shall be accomplished by either having the hair cut so as to be this length or by pulling the hair back and fastening it so that it meets this requirement.  In either situation, hair shall be worn so as to be neat and free of any loose "pennants".  No ribbons, bows, banana combs, etc., or other hair fasteners shall be visible except for gold, black, silver, or natural hair color conservative type barrettes.  Ponytails and pigtails are only permitted in the PT and Relaxed Uniforms.  Hair must not show under the front of the brim of the garrison or dress cap.  No eccentric haircuts, i.e. shaved sides, etc.  The final decision is left up to the discretion of the Commandant.  When in relaxed uniform hair may be worn down, so long as it is neat in appearance and is safe to do so.
MUGs
During RPT, MUGs will be required to keep their hair within the Regimental standards described above.  If the Commandant determines that a MUG is unable to maintain her hair to the Regimental standard in the limited time provided for grooming, a haircut may be required. In such cases, the haircut will only be completed by a licensed professional cosmetologist.
There are many classes, clubs, and on-the-water recreational opportunities in and around Maine Maritime Academy. To reduce the need to share Personal Flotation Devices (PFDs or Lifejackets), all students (new and returning) are encouraged to arrive with their own PFD or purchase one through the MMA Bookstore or other area vendor. Please note that all lifejackets used in MMA activities must be Coast Guard approved (as evidenced by a permanent label inside the lifejacket), be of the proper size and buoyancy for the wearer, and be in good serviceable condition (no tears, broken clasps, or deteriorating floatation). Coast Guard Approved Type III (vest style) lifejackets are the most common and preferred for on-the-water activities. Float coats are appropriate in most situations. Inflatable PFDs may be used in some cases; however, they should be avoided when there is a high likelihood that the wearer will routinely enter the water as part of training or practice.
If you are part of MMA's Sailing Team, please contact Coach Taylor if you have questions about PFDs. You may also contact the MMA Waterfront Staff or MMA Bookstore for more information about lifejackets.
Coast Guard Approved Type III (Vest Style) Lifejackets: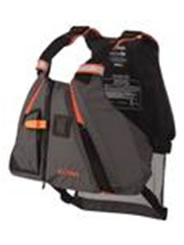 Please contact the Maine Maritime Academy Bookstore for additional information regarding lifejackets.
Kathy MacArthur, Manager | Maine Maritime Academy Bookstore
Follett #861
Pleasant St
Castine, ME 04420
207-326-9333 phone
207-326-9220 fax
Additional Resources: