Maine Maritime Academy Mobile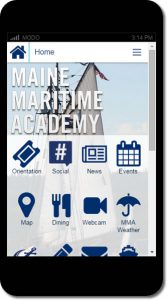 We are Mariners and we are going places. Connect with Maine Maritime Academy on-the-go with the official college app, developed to provide alumni, students, faculty, staff, and visitors all of the MMA resources they need in one compact and easy-to-use tool. Read up on MMA news and see what is happening via Maine Maritime social networks. Check out the calendar and find up-to-date schedules for the events you are attending. Navigate campus using the interactive map or find contact information in the directory for administration, faculty, and staff offices.
Also connect with:
Athletics
Campus Dining
Campus Safety
Canvas
MMA Weather
Webcam
Get the App
Native apps are available for iOS and Android smartphones. Any device, including tablets and desktops, can access the site at m.mainemaritime.edu.
Frequently Asked Questions – App Editions
Are there special views for different groups?
We call them editions and there are five: Welcome, Prospective Student, Student, Faculty/Staff, and Alumni. Each edition contains information specific to certain sub-groups of the MMA family.
Which edition is right for me?
Welcome – This is the general or default edition meant to serve campus visitors and friends of the Academy.
Prospective Student – This edition is for anyone who is interested in becoming a student at MMA.
Current Student – In this edition, current MMA students can find up-to-date and important MMA information.
Current Student – Regiment – In this edition, current MMA students in the Regiment can find up-to-date and important MMA information.
Faculty/Staff – Employees of the Academy should pick this edition for easy access to the campus including a complete directory and calendar.
Alumni – Graduated from MMA? Alumni of the Academy can easily stay connected to MMA through this edition.
How do I set my edition?
Find the edition you have below the main menu screen in your app. You will see "Tap to switch edition" which will give you the option to activate the edition that is right for you.
Does the App send notifications?
Push notifications can be activated for each edition. By default all push notifications are on. To change this, go to settings (below the main menu) and select only the editions you wish to receive notifications for.
Can I find out about campus alerts and emergencies with the App?
Yes! Emergencies and alerts will be displayed at the top of any edition homescreen. Additionally, if you go to Campus Safety from any edition you will see any current notices above the contact information.
Can I find out about campus notifications with the App?
Yes! If a general notification, that is not an emergency, has been posted to the app and is still active it will be displayed within the Notification Module.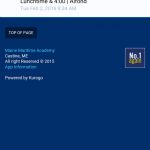 App Icon List
Edition Key:

All editions | 

Welcome | 

Prospective Student | 

Current Student | 

Faculty / Staff | 

Alumni
| | |
| --- | --- |
| | Map - Need to find a place on campus or get directions? Find it here. |
| | Directory - Find numbers, email addresses, and office hours for MMA faculty and staff members. |
| | Message Center - Notification for alerts and events. |
| | Events - View the campus calendar. You can search by category or see a complete listing. |
| | MMA Weather - Get today's weather and tide chart direct from our weather station on the top of Dismukes Hall. |
| | News - Stay up-to-date on Academy news. |
| | WHAMM - Looking for something to do? WHAMM highlights some of the great activities you can get involved with this week and next! |
| | Hashtag - Featuring MMA hashtags, this page showcases what's happening on campus, in our community, and with members of the MMA family (alumni, faculty, friends, staff, and students) out in the world. |
| | Webcam - Check out what is happening on our waterfront with the MMA webcam. |
| | Athletics - View Mariners schedules, social feeds, and current news. |
| | Library - View current hours, contact information, and link to the Nutting Memorial Library webpage. |
| | Dining - Get weekly menus and more from dining services. |
| | Website - For more MMA information, visit our complete website. |
| | About - Find general information about Maine Maritime Academy. |
| | Give - Make a gift online and help Maine Maritime Academy continue to provide the best education and opportunities to students. |
| | TSSOM - When TSSOM is underway, you can find updates on the training cruise here. |
| | Campus Safety - Need help? Have a Question? Connect to the Campus Safety office. |
| | Course Catalog - Find class offerings. |
| | Career Services - Follow the road to success with Career Services. View office hours, get information about cadet-shipping and co-op experiences, and connect with company visitors. |
| | Orientation - For new Mariners, New Student Orientation (NSO) is your ticket a great start at MMA. Get the complete NSO schedule along with interactive maps, MMA terms, and services available to you. |
| | Admissions - Ready to be a Mariner? Get information here and get started at MMA. |
| | Open House - A campus Open House is your key to MMA. Sign up to attend an Open House event and get all of the details here. |
| | Student Life - Get the most out of your time at MMA by staying involved and connected through Student Life. Join a club, organization, and/or team; get the support you need; find out about and attend events; and enjoy the company of fellow students who are sharing in the unique experience of being a Mariner! |
| | Canvas - Connect to your Canvas account quickly to see your class schedules, view grades, and find assignments. |
| | Mariner Money - Check your balance and add money to your student ID with Mariner Money. |
| | Information - Non-emergency campus notifications that are active on app. |
| | Outlook - Check your campus email and calendar. |
| | My Classes & Grades - Check your class schedule, grades and other registrar information. |
| | Mariner Magazine - Read the current issue of the Mariner magazine and stay in-the-know about what's happening with fellow Mariners. |
| | Eight Bells - The sounding of 8 bells marks the passing of a Mariner. View a listing of Alumni who have passed away. |
| | Yearbooks - Online copies of all yearbooks. |
Further Information
Contact webmaster@mma.edu.