Develop honor, integrity, discipline, and comradery in the leadership laboratory that is the Regiment of Midshipmen at Maine Maritime Academy. You'll thrive in this intensive, structured midshipman training where you'll gain the skills and leadership capabilities that employers are seeking.
While members of the Regiment at Maine Maritime do wear a uniform, the Regiment of Midshipmen is not the military. You're required to participate in the Regiment only if you're pursuing an unlimited U.S. Coast Guard license as part of your major. An unlimited license means that you are qualified for the position held on any size vessel operating anywhere in the world. The Regiment is also open to all Maine Maritime students who want to build their confidence and self-discipline along with the leadership skills and character traits employers value most.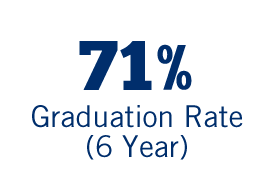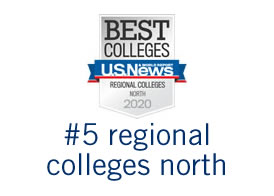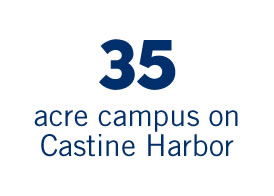 Required Regiment Participation
You will enroll in midshipman training if you major in:
If you pursue a different major and want to participate in the Regiment, you may enroll in midshipman training at the end of your first year.
Mission of the Regiment
The mission of the Regiment is to develop future leaders of industry and society through a challenging, structured environment that requires self-discipline, personal growth, professional development, teamwork, strength of character, and social responsibility.
Core Values of the Regiment
The core values of the Regiment of Midshipmen are honor, loyalty, and devotion to duty:
Honor: To live honorably is to do what is just, right, and good in consideration of others as well as oneself and one's society. The good of others and the good of the community are important in any setting, but particularly so on a ship, due to the confined nature of life at sea, and the perils that all face collectively. One must be able to rely on one's shipmates in all things.
Loyalty: Loyalty is the devotion that one feels toward another, such as country, community, family, and friends. A Midshipman's devotion to welfare of shipmates and the Academy is a measure of their honor.
Devotion to Duty: Graduates of the Regiment of Midshipmen at Maine Maritime Academy are renowned for the perseverance and dedication that is known as devotion to duty. Even when the task is long, dirty, and difficult, the job gets done in good order, and with pride. This is a characteristic that makes one truly "great," and is a mark of a true professional.
At-Sea Training
As an unlimited license major in Marine Engineering Operations, Marine Engineering Technology, Marine Systems Engineering (5-year track), and Marine Transportation Operations, you'll complete a 37-day summer training program at sea on the Training Ship State of Maine (TSSOM).
As a deck student, you'll complete a 74-day summer training voyage on the TSSOM after your 4th Class (4/C) year. Both engineering and deck students also complete a 74-day summer training program at sea after their 2/C year.
You'll also be required to ship with various companies after your 3/C year, which is referred to as commercial shipping or cadet shipping.
What Is a Midshipman?
Originally, the term "midshipmen" was applied to those who worked or slept in a certain part of the ship, amidships. Later, the midshipmen definition applied to officers in training. Though the rank is called "midshipmen," it can be achieved by both men and women.
Keep reading to learn more of what you can expect from year to year in the Regiment of Midshipmen at Maine Maritime Academy.
First year
During your first year in midshipman training you'll be introduced to the Regiment and to key books on the commandant's suggested reading list, such as Golden Stripes: Leadership on the High Seas, by Capt. VS Parani. You'll be inspired by guest speakers and learn ethics from Maine Maritime faculty.
Midshipman training starts with a week of indoctrination and training known as Regimental Preparatory Training (RPT). During this time you are referred to as a Midshipmen Under Guidance (MUG) and are taught and guided by Midshipman Training Officers (MTOs) who are tasked with facilitating your transition into an honorable midshipman. You'll conclude this intensive week of training with the customary Ship Jump, which involves jumping off the stern of the training ship.
After RPT you'll begin your classes while continuing to be taught and guided by your training cadre through MUG Month. At the conclusion of this intense, focused training period you and other MUGs will take the Oath of Midshipmen at the Regimental Induction Ceremony and be recognized as a 4th Class (4/C) midshipman. You'll complete a summer training program at sea after your 4/C year.
Alumni Perspective
Gordon MacArthur '00
Major:
Marine Transportation Operations
Hometown:
Castine, Maine
I came because of the reputation of the school in the industry and the diverse opportunities after graduation.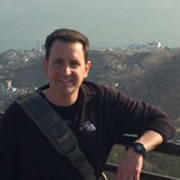 Second year
In your second year of midshipman training, you'll become a 3rd Class (3/C) midshipman. You'll take on leadership roles and prepare to train MUGs. You'll also prep for cadet shipping — your first real-world experience aboard a commercial ship, which you'll do in the summer after your 3/C year. If you are not in an unlimited license major, you'll have opportunities for cooperative experiences and internships.
Third year
In your third year of midshipman training, you'll become a 2nd Class (2/C) midshipman. You'll share your cadet shipping experience and the ways in which what you're learning at Maine Maritime apply to industry. You'll build and practice leadership skills by mentoring freshmen. You will also shadow Regimental leaders and prepare to move into higher levels of regimental leadership. Engineering and deck students complete a 74-day summer training program at sea after their 2/C year.
Fourth year
As a senior you'll be a 1st Class (1/C) midshipman. You'll be responsible for much of the day-to-day activities in the Regiment as well as the professional training of underclassmen. You'll sit for your U.S. Coast Guard license exams and, after successfully passing, transition into your career.
Student Perspective
Tristan Walker '22
Major:
Oceanography
Hometown:
Virginia Beach, VA
I love the small class sizes and that you get to know your professors really well. The classes are hands on and the academics are rigorous.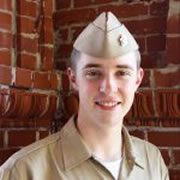 Bonds That Last a Lifetime
Participating in the Regiment will be one of the most challenging experiences of your life, but the payoff is well worth it. This intensive leadership lab will contribute in innumerable ways to your future career and lead you to a rewarding and fulfilling life. In your journey from MUG to Regimental leader, you'll develop lifelong bonds and friendships. Here is some of what you can look forward to in midshipman training.
Regimental Awards Ceremony
During the Regimental Awards Ceremony, held at the end of the academic year, we recognize the outstanding accomplishments of our midshipmen and celebrate their vision, effort, and tenacity. Award recipients serve as a models for others to follow.
Regimental Change of Command Ceremony
Each year in February, the Regimental Change of Command Ceremony is held to mark both the symbolic and physical transfer of leadership from the graduating senior class to the junior class. The new leaders assume their roles for the summer training cruise and their senior year.
Monomoy Race
Maine Maritime participates in the Inter-Maritime Academy Monomoy Race against teams from SUNY Maritime, Massachusetts Maritime Academy, the USCG Academy, and the U.S. Merchant Marine Academy. Teams participate in round-robin and seamanship skills competition and race. The event fosters leadership, teamwork, and fundamental seamanship skills.
Learn More About the Regiment
Learn how the Regiment of Midshipmen can help you become the leader you know you can be. Email Anne Kowalski, Regimental administrative assistant at Maine Maritime, or call 207-326-2250.
MMA Ranked No. 1 for Veterans
U.S. News & World Report named Maine Maritime Academy the best college in the Northeastern United States for veterans. We have the resources in place to help veterans and their families succeed. Contact our dedicated admissions representative for veterans to learn more. If you're interested in becoming a Navy or Marine Corps officer, consider joining the Navy Reserve Officer Training Corps (NROTC) at Maine Maritime Academy.
Regiment Required Programs
Contact
Maine Maritime Academy
Regiment of Midshipmen
Anne Kowalski, CW02
Regimental Program Officer
Castine, ME 04420
207-326-2250
anne.kowalski@mma.edu