Prepare for challenging, lucrative, and rewarding marine engineering technology jobs both at sea and ashore with the marine engineering technology degree at Maine Maritime Academy. You will put classroom theory to work in the real world through hands-on labs, summer training cruises, and cadet shipping aboard merchant vessels. This ABET-accredited program leads to the U.S. Coast Guard (USCG) 3rd Assistant Engineer license and other professional licenses.
Through the marine engineering technology degree you'll learn from a diverse group of talented and highly accomplished engineers. They hold the highest credentials and have extensive research and industrial experience afloat and ashore. They're also passionate about teaching and mentoring you on your path from maritime academy to marine engineering technology jobs.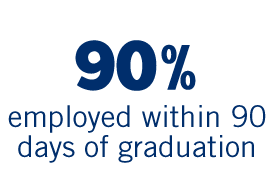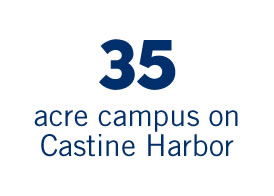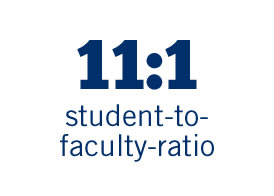 Superb Location
Located on Castine Harbor, Maine Maritime Academy offers you the perfect setting to receive a marine-focused education. This maritime academy is situated on a hillside overlooking Penobscot Bay in historic Castine, Maine. Nearby are Acadia National Park and Baxter State Park as well as the Appalachian Trail.
Professional Licenses
After successfully completing your marine engineering technology degree and the federal exam, you'll be issued a USCG 3rd Assistant Engineer of Steam and Motor license, allowing you to serve as an officer aboard ships sailing in United States or international waters. You'll also be eligible for the State of Maine Third Class Stationary Steam Engineer license, which qualifies you to supervise and operate high pressure boilers at power plants and other facilities in the state. Similarly, you'll be eligible to take the Fundamentals of Engineering (FE) exam, which leads to an Engineer In Training (EIT) certificate.
NECHE- and ABET-Accredited
Maine Maritime Academy is accredited by the New England Commission of Higher Education (NECHE). The Marine Engineering Technology program is accredited by the Engineering Technology Accreditation Commission of ABET, www.abet.org. ABET accreditation demonstrates the quality of the program to employers, licensing officials, and learning institutions, including graduate schools.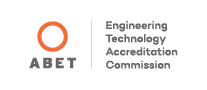 Objectives of the Marine Engineering Technology Major
Three to five years after receiving their B.S. from Maine Maritime Academy, typical Marine Engineering Technology graduates are expected to be:
Versatile engineering technologists with the technical and managerial skills necessary to enter a variety of different careers in the field of marine engineering technology areas of operations, maintenance, and manufacturing.
Engineering technologists with competencies in analytical thinking, problem solving, teamwork, communications, and with the ability, and hands-on experience, to apply these skills to support design applications and to solve existing and emerging problems.
Outcomes of the Marine Engineering Technology Major
Student Outcomes of the Marine Engineering Technology major are as follows:
An ability to apply knowledge, techniques, skills and modern tools of mathematics, science, engineering, and technology to solve broadly-defined engineering problems appropriate to the discipline.
An ability to design systems, components, or processes meeting specified needs for broadly-defined engineering problems appropriate to the discipline.
An ability to apply written, oral, and graphical communication in broadly-defined technical and non-technical environments; and an ability to identify and use appropriate technical literature.
An ability to conduct standard tests, measurements, and experiments and to analyze and interpret the results to improve processes.
An ability to function effectively as a member as well as a leader on technical teams.
Enrollment
In the 2021 Fall semester, enrollment in the Marine Engineering Technology program was 136. During Academic Year 2020-2021, 37 students graduated from the program.
Student Perspective
John Hall '22
Major:
Marine Engineering Technology
Hometown:
Lee, NH
I chose MMA because I want to get a commission in the U.S. Navy as a Surface Warfare Officer. I believe that the best SWOs are the ones who know exactly what their sailors are doing and how the ships' systems operate. MMA is the best place to gain that knowledge before entering the Navy.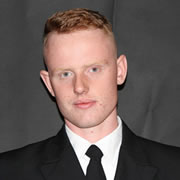 What Is Marine Engineering Technology?
Marine engineering technology focuses on the operation and maintenance of marine equipment and facilities and integrates practical background, technical science, and hands-on experience.
Why Study Marine Engineering Technology at Maine Maritime Academy?
You'll become a versatile engineering technologist through an undergraduate engineering technology program that U.S. News & World Report has consistently ranked among the best in the nation since 2004. Through rigorous courses and hands-on learning you'll gain the knowledge, skills, and experience you need to succeed in the global economy and earn a top marine engineering technology salary.
Experiential learning
Put classroom theory to work in the real world through a variety of hands-on learning opportunities, including multi-week summer training cruises aboard the 500-foot training ship State of Maine. You'll also learn about shipboard procedures and acquire days at sea through cadet shipping aboard commercial ships. All of your experiences on land and at sea will build your knowledge and skills in the operation, maintenance, analysis, and management of modern marine power plants and other marine equipment and systems.
Advanced labs
Work with equipment used in industry in Maine Maritime Academy's high-tech laboratories and facilities, including a working steam lab, diesel engine labs, electrical and electronics labs, steam and diesel simulator labs, welding lab, refrigeration lab, materials science lab, machine shop, and many others.
Regiment of Midshipmen
Gain leadership opportunities and prepare for shipboard life through the Regiment of Midshipmen, a uniformed student body. As a cadet in the Regiment you'll routinely stand watch as you operate and monitor ship systems. Through regimental participation, required for all students in USCG unlimited marine license programs, you'll increase your confidence and maturity and make friendships that will last a lifetime.
What Can You Do With a Marine Engineering Tech Degree?
With the marine engineering technology degree you'll be prepared for careers both at sea and ashore. Graduates work in offshore shipping, the oil and power industries, facilities management, shipyards, manufacturing, and more, worldwide. Employers include Conoco Phillips, Exxon Mobil, Interocean American Shipping Corporation, Portsmouth Naval Shipyard, and many other leading companies. The marine engineering technology degree also prepares you to pursue advanced engineering degrees.
Career outlook in marine engineering
Employment of marine engineers is projected to grow 9% through 2028, faster than the average for all occupations, according to the U.S. Bureau of Labor Statistics.
What is the average marine engineering technology salary?
The median annual wage for marine engineers was $92,560 in May 2018, according to the U.S. Bureau of Labor Statistics.
Alumni Perspective
Kylie Bradley '18
Major:
Marine Engineering Technology
Hometown:
Pensacola, FL
I chose MMA because it provided diverse opportunities in a really unique environment. During my time there I was involved in competitive soccer, and NROTC. I loved the regimented lifestyle and the hands-on academics, especially the training cruises.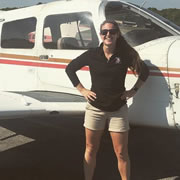 Explore Classes for the Marine Engineering Technology Degree
The marine engineering technology degree at Maine Maritime Academy includes most of the required courses of the marine engineering operations degree with additional mathematics and technical sciences courses, such as statistics, strength of materials, and thermodynamics. Few engineering technology programs offer such a diverse range of topics along with the ability to apply concepts aboard training ships and commercial vessels. Through courses in the arts and sciences you'll gain other skills that employers value. To ensure courses align with employer needs, engineering faculty regularly consult with an industrial advisory committee.
Fundamentals of Engineering Operations
Graphics
Composition
Pre-Calculus Mathematics
Introduction to Nautical Science
Personal Development I
Ocean Survival
USCG Fire Fighting
Any PE Course
Structured Problem Solving with Computer
Technical Calculus I
Maintenance - First Year
Ship Structure & Stability
Personal Development I
Technical Physics I
USCG Fire Fighting Live Burn
Lifeboat Exam
Power Equipment Lab
Steam Generators I
Diesel Power I
Fluid Power
Humanities II
Maintenance Sophomore Engine
Personal Development II
Technical Physics II
Welding
Machine Tool Operations I
Diesel Power II
Thermodynamics I
Electrical Power I
Personal Development II
Steam Turbines I
Machine Tool Operations II
Electrical Power II
Thermodynamics II
Personal Development III
Technical Communications
Any EC/HC/Hum/SS/HY/PY Course
Chemical Principles
Steam Power Systems I
Statics and Dynamics
Maintenance Junior Engine
Personal Development III
Power Control Electronics
Technical Caluclus II
Steam Power Systems II
Marine Refridgeration & Air Conditioning
Strength of Materials
Thermal/Fluids Lab
Maintenance Senior Engine
Personal Development IV
Automation and Control
Marine Engineering Technology Capstone I
Any EC/HC/Hum/SS/HY/PY Course
Nature and Properties of Materials
Marine Engineer Technology Capstone II
Medical Care Provider
Humanities I
Personal Development IV
Free Elective
Any EG/ES/ET/NA Elective
Any EC/GE/GENED/HC/HY/PO/PY Course
View all courses for the marine engineering technology degree.
Get Started on Your Bachelor's Degree in Marine Engineering Technology
Take the next step toward earning your marine engineering technology degree at Maine Maritime Academy.
Contact an Admissions Representative
If you're ready to earn a marine engineering technology degree, please contact an admissions representative at Maine Maritime Academy.
Rated Military Friendly®
Maine Maritime Academy welcomes veterans and has the resources in place to help you transition to student life. Please contact our dedicated admissions representative for veterans.
Transfer
Maine Maritime Academy welcomes motivated and academically qualified transfer students. Please contact our admissions office to learn more about transferring to Maine Maritime Academy.
Apply now and request more information
We invite you to start your application or request more information about the marine engineering technology degree at Maine Maritime Academy.