If you have a passion and love for the sea and want a rewarding career examining the physical, chemical, geological, and biological aspects of the ocean, consider the oceanography degree at Maine Maritime Academy. Our location on Castine Harbor offers the ideal place to study oceanography. You'll spend your time on and off the water collecting data with cutting-edge equipment through hands-on learning experiences, from oceanographic cruises to geological field trips.
You'll learn from faculty who share your passion for oceanography and working at sea. These experts in marine science have a broad range of research interests and experiences, from conducting research in prestigious labs to participating in research expeditions all over the world. They'll mentor you and make sure you have the knowledge, skills, and experience for oceanography jobs or to excel in marine science in graduate school.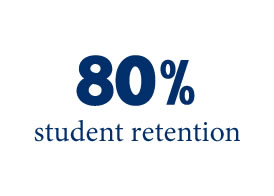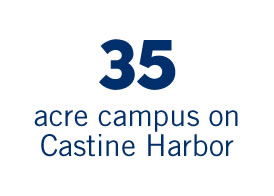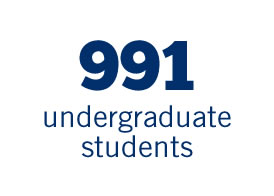 Idyllic Location
Located on Castine Harbor on the upper Penobscot Bay, Maine Maritime Academy provides an ideal setting to study marine science. You'll measure, analyze, and synthesize ocean data through oceanographic cruises and field trips to sites such as Holbrook Island, and explore rocky intertidal shores, salt marshes, and mud flats. Through projects in the local community, you'll put what you're learning in the classroom — and on the water — to work in the real world. For example, Maine Maritime students interested in aquaculture were involved in the Sustainable Ecological Aquaculture Network (SEANET) program, which funded vital research on Maine's working waterfronts.
Dual Major Option
Achieve independence and expand your options for oceanography jobs through Maine Maritime's unique oceanography and small vessel operations dual major option. You'll train in small vessel operations and learn to navigate and handle vessels for oceanographic research. This 5-year degree path at Maine Maritime Academy offers additional experience in other areas, such as ocean survival, firefighting, and small craft construction and design. Acquire sea time to earn your U.S. Coast Guard (USCG) license through a summer cooperative experience, simulations, laboratories, and a 14-day training cruise aboard the schooner Bowdoin. Test for a USCG license, up to 200 gross tons, operating in near-coastal waters up to 200 miles offshore. Graduates of the SVO dual major are extremely successful and immediately obtain jobs on the water on private and commercial vessels.
NECHE-Accredited
The oceanography degree at Maine Maritime Academy is accredited by the New England Commission of Higher Education (NECHE), a nonprofit, non-governmental membership organization. The NECHE accreditation is the regionally recognized standard and is a mark of a robust undergraduate degree.
Student Perspective
Tristan Walker '22
Major:
Oceanography
Hometown:
Virginia Beach, VA
I love the small class sizes and that you get to know your professors really well. The classes are hands on and the academics are rigorous.
What Is Oceanography?
Oceanography is the study of the physics, chemistry, geology, and biology of the ocean, and the interrelationships between these focus areas. Through this extremely diverse field you'll learn about the vast ecosystem of the world's oceans, how the ocean is related to other parts of the Earth, and how you can positively impact the ocean in your future career.
Why Study Oceanography at Maine Maritime Academy?
When you look at Maine schools for oceanography, Maine Maritime stands out for hands-on experience. You'll gain the essentials of oceanography through time spent on the water collecting, measuring, analyzing, and synthesizing ocean data using cutting-edge tools and working alongside experts in marine science. Prepare for oceanography jobs or to pursue graduate studies through this marine science program in Maine.
Dedicated laboratories and vessels
You'll have access to specialized labs and equipment, including a gas chromatograph mass spectrometer (GC-MS) and an oceangoing conductivity-temperature-depth (CTD) rosette, and to vessels, such as Maine Maritime's research vessel, Friendship, and our running seawater lab. You'll also receive hands-on experience through dedicated labs in physical oceanography, chemical oceanography, biological oceanography, and physics.
Real-world field experience
While you're not required to complete formal field experience as part of your oceanography degree, you'll have an abundance of opportunities — and encouragement — to do so. Current students have been successful in the pursuit of Marine Advanced Technology Education (MATE) internships, field experience at the Boothbay Sea and Science Center, and full-time paid internships at a National Oceanic and Atmospheric Administration (NOAA) facility through the Hollings Scholarship Program. If you choose the dual major option, you will complete a summer cooperative aboard an appropriate vessel between your fourth and fifth year.
Regiment of Midshipmen
At Maine Maritime Academy, you can choose to participate in the distinctive Regiment of Midshipmen, a uniformed student body. While you are not required to participate in the Regiment, some students in oceanography choose to do so in order to develop their self-confidence and self-discipline, and gain the leadership and teamwork skills valued by employers in marine science.
What Can You Do With A Degree in Oceanography?
When you complete this oceanography program in Maine, you'll be ready for oceanography jobs in a range of areas, such as resource management, aquaculture, research, environmental protection, science education, or oceanography. Maine Maritime graduates work at state and federal agencies, including NOAA and the Maine Department of Marine Resources. This interdisciplinary oceanography degree will prepare you for graduate school or for a position such as geoscience consultant, radar specialist, hydrographic technician, or marine technician. Navy ROTC students also go into oceanography and meteorology careers in the Navy.
Career outlook in oceanography
The U.S. Bureau of Labor Statistics doesn't list oceanographers specifically but incorporates them into other fields, such as geoscientists, which include geological oceanographers (projected to grow 6% through 2028) and environmental scientists (projected to grow 8% by 2028).
How much do oceanography graduates make?
The median annual wage for geoscientists was $91,130 in May 2018, according to the U.S. Bureau of Labor Statistics.
Alumni Perspective
Rex LeBeau '07
Major:
Oceanography
Hometown:
Newport, RI
I wanted to attend a small school with a hands-on approach to learning. I loved that MMA was right on the water, had an intense undergraduate program with a senior thesis, and had Regimental and NROTC opportunities.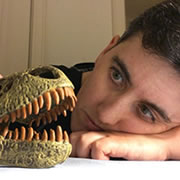 Explore Classes for Oceanography Majors
During your first year at Maine Maritime Academy, your courses mirror those of the other ocean studies majors and then branch out into more degree-specific courses, such as marine geology and marine geochemistry. Through courses in the arts and sciences you'll develop into a well-rounded oceanographer who knows how to communicate scientific findings. In your fourth year, you'll conceive of, design, and execute an independent senior research project, which can result in presenting at professional national meetings.
General Biology I
Chemistry I
Composition
Introduction to Nautical Science
Intro to Marine Science
General Biology II
Chemistry II
Humanities I
Calculus I
OS Seminar I
Any Swim PE Course
Intro to Organic Chemistry
Organic Marine Botany
Calculus II
OS Seminar II
Physical Geology
Technical Physics I
Any PE Course
OS Seminar III
Design & Applied Stat in Science
Marine Geology
Marine Geochemistry
Technical Phsyics III
Any PE Course
Physical Oceanography
Biological Oceanography
OS Seminar IV
Any EC, HC, HMSS, HY, or PY Course
Any BI or OS Course
Humanities II
Seminar V
Prep for Research in Marine Science
Any BI or OS Course
Any EC,HC, HMSS, HY or PY Course
OS Seminar VI
Research Project
Any BI or OS Course
Any Course EC,HC, HMSS, HY or PY Course
Any Course
Any BI or OS Course
Any Course (4)
Explore Classes for Oceanography and SVO Dual Majors
The Oceanography/Small Vessel Operations dual major allows the student to complete all of the requirements for the Bachelor of Science degree in Oceanography and Small Vessel Operations, as well as a USCG license as mate of vessels not more than 200 gross tons, Near Coastal (200 miles offshore). This program may be completed in 5 years and is designed for students who plan to work in the oceanography field and may need the capability to operate small vessels.
General Biology I
Chemistry I
Pre-Calculus
Introduction to Oceanography & Environmental Science
First Year Experience
Seminar 0
Ocean Survival
General Biology II
Chemistry II
Calculus
Composition
Seminar 1
Marine Botany OR Intro to Organic Chemistry
Humanities I
Intro to Nautical Science
Physical Geology
Hum/SS Elective
Seminar II
Basic Sailing
USCG Firefighting
Geological Oceanography
Tech Physics I
Chemical Oceanography
Design & Applied Statistics
Seamanship
Seminar III
USCG Firefighting Live Burn
Lifeboat Exam
Biological Oceanography
Physical Oceanography
Hum/SS Elective
Tech Physics III
Seminar IV
Intro to Vessel Operations
Research Prep
Dept/Program Elective
Dept/Program Elective
Free Elective
Seminar V
Research
Humanities II
Hum-SS Elective
Dept/Program Elective
Seminar VI
Small Craft Technology
Small Craft Construction
Dept/Program Elective
Free Elective
Free Elective
Free Elective
Cargo I
Marine System
Terrestrial Navigation
Terrestrial Navigation Lab
SVO Dept. Elective
Meteorology
Navigation Rules
Electronic Navigation
Electronic Navigation Lab
Topics in Small Vessel Operations
200 Ton License Seminar