Welcome, Class of 2025!
We are thrilled to welcome you to Maine Maritime Academy and look forward to meeting you in person soon. This year's New Student Orientation includes both virtual and in-person opportunities for you to connect with your peers, get to know our campus, and ensure that you are ready for a successful semester this fall.
Getting Started
Take a moment to watch each of the four videos for important information on how to register for classes, finalize your financial aid, manage the billing cycle, and selecting a roommate!
In-Person Sessions
Choosing your in-person session is part of your housing application, so be sure to complete that and choose which in-person session you'd like to attend. These sessions are optional, but we do hope you will join us on campus.
Session Dates:
Session 1: June 19 | 9:00 a.m. – 3:30 p.m.
Session 2: June 26 | 9:00 a.m. – 3:30 p.m.
Session 3: July 17  | 9:00 a.m. – 3:30 p.m.
NSO staff will be sharing additional information about each session in the coming weeks, so please keep a close eye on your new school email.
Choose Your Adventure
As part of this year's in-person experience, we are excited to offer an a-la-carte style activities menu for you to choose from and each in-person session will be action-packed!
Castine is particularly beautiful during the summer and so we're hoping to take advantage of the season to introduce to all the very best of MMA: our vessels, our facilities, and our community.
While here, you will have the opportunity to meet your classmates, participate in group activities, and meet MMA staff and faculty across campus. We will be ready to show you around, help you get oriented to college life, and answer any questions you may have.
'Choose Your Adventure' activities information and sign up is available in the Maine Maritime Academy Mobile App.
If you have questions about orientation please contact Deidra Davis at 207-326-2138.
Frequently Asked Questions
Questions about accessibility or requests for accommodations can be directed to MMA's Accessibility Services at 207-326-2489 or accessibility.services@mma.edu.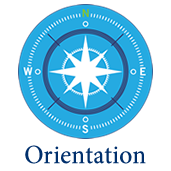 New Student Orientation information is also available on the 
Maine Maritime Academy Mobile
 app – get the App now and tap the 
Orientation 
icon.