Hello! Thanks for visiting! I am the Assistant Professor of Coastal and Marine Environmental Science in Maine Maritime Academy's Corning School of Ocean Studies. Since 2020, I have contributed to developing the new Coastal and Marine Environmental Science (CMES) program at MMA; I'm focused on building a dynamic and interdisciplinary curriculum for CMES that weaves together concepts of marine and environmental science, policy, resource management, and conservation.
I teach classes related to oceanography and environmental science including:
Introduction to Oceanography and Environmental Science (OS101)
Introduction to Biology (laboratory) (BI101)
Coastal Resource Management (OS321)
Land Margin Ecosystems (OS225)
Global Environmental Change (OS230)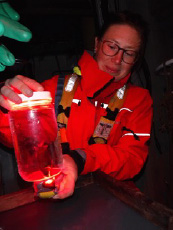 My research focuses on the ecological, physical, and evolutionary processes that generate and maintain diversity in the ocean, particularly among marine microbes. I have experience in marine molecular ecology (DNA analysis) and population genetics to explore diversity on various evolutionary scales and across taxa and marine ecosystems (from diatoms to dragonfish, polar regions to the mezopelagic).  My first and true love are the phytoplankton, especially diatoms.  I also have experience in marine policy; as a 2014 Knauss Fellow I worked in the Office of Protected Resources at NOAA to advance endangered species listings of marine species. I am also passionate about experiential science education and seek to develop ways to merge oceanographic research with interdisciplinary undergraduate education.
I believe the act of conducting science at sea offers a profound perspective of our role and impact as humans on this very blue planet.  I love sharing the experience of scientific inquiry and sea-going field work with students, wherever possible.
Prior to joining MMA, I was an Assistant Professor of Oceanography at Sea Education Association (SEA). At SEA, I sailed as Chief Scientist for multiple SEA Semester programs aboard the SSV Corwith Cramer and SSV Robert C. Seamans, two 134ft tall ships sailing, conducting oceanography, and offering academic semester programs for undergraduates in the Pacific and Atlantic Oceans. Prior to joining SEA, I was the Faculty Chair of Coastal Studies for Girls (CSG), a place-based semester school in Maine focusing on marine science and leadership education for high school girls.  I have also taught marine ecology courses at Bates College. In addition to teaching and research, I am also a Sea Grant Knauss Fellowship alumna (2014) where I worked for NOAA Fisheries, Office of Protected Resources, advancing endangered species listings under the US Endangered Species Act.  I received a B.A. in English and Environmental Science from Colby College (2008), and a Ph.D. in Oceanography from the Graduate School of Oceanography at the University of Rhode Island (2014).  I am drawn to opportunities that push me out of my comfort zone and force me to connect ideas and skills across disciplines!  I encourage my students to do the same. If you want to know the nitty-gritty: here's my CV.
I love spending my free time outdoors, rock climbing, hiking, gardening, traveling, mushroom foraging,  paddling, experimenting with fermentation, teardrop camper 'glamping', and adventuring with my friends, loved ones, family, and two adventurous camping kitties.
Feel free to check out some selected media highlighting some of my research, interests, and experience:
At-sea experience:
Fall, 2019; Sustainability in Polynesian Cultures and Ecosystems Program, South Pacific, American Samoa to New Zealand via Tonga and Fiji, SSV Robert C. Seamans
Spring 2018, 2019; Marine Biodiversity and Conservation Program, Sargasso Sea, SSV Corwith Cramer
Fall 2017, 2018; The Global Ocean Program, New Zealand to Kermadec Islands, SSV Corwith Cramer
Winter, 2016; Antarctica, Southern Ocean, R/V Nathaniel B. Palmer
Spring, 2013; Antarctica, Southern Ocean, R/V Nathaniel B. Palmer
Summer, 2012; Station ALOHA Hawaii, R/V Kilo Moana
Spring, 2012; Gulf of Alaska, R/V Thomas T. Thompson
Spring, 2009; Gulf of Mexico, R/V Endeavor
Publications:
Dragone, N.B., Whittaker, K., Lord, O.M., Burke, E.A., Dufel, H., Hite, E., Miller, F., Page, G., Slayback, D. and Fierer, N., 2023. The Early Microbial Colonizers of a Short-Lived Volcanic Island in the Kingdom of Tonga. Mbio, pp.e03313-22.
Gill, J.G.*, Hill-Spanik, K.M., Whittaker, K.A., Jones, M.L. and Plante, C., 2022. Sargasso Sea bacterioplankton community structure and drivers of variance as revealed by DNA metabarcoding analysis. PeerJ, 10, p.e12835.
Ahern, O.M., Whittaker, K.A., Williams, T.C., Hunt, D.E. and Rynearson, T.A., 2021. Host genotype structures the microbiome of a globally dispersed marine phytoplankton. Proceedings of the National Academy of Sciences, 118(48).
Dibner, S.*, Martin, L., Thibaut, T., Aurelle, D., Blanfuné, A., Whittaker, K., Cooney, L., Schell, J.M., Goodwin, D.S. and Siuda, A.N., 2021. Consistent genetic divergence observed among pelagic Sargassum morphotypes in the western North Atlantic. Marine Ecology, p.e12691.
Hite, E.B., Garvin, J.B., Slayback, D.A., Burke, E.A., Callahan, G.*, Joyce, P. and Whittaker, K., 2020. Exploring the human-nature dynamics of Hunga Tonga Hunga Ha'apai, Earth's newest landmass. Journal of Volcanology and Geothermal Research, 401, p.106902.
Annette Frese Govindarajan, Laura Cooney, Kerry A. Whittaker, Dana Bloch, Rachel Burdorf*, Shalagh Canning*, Carly Carter*, Shannon Maye Cellan*, Frederik Erikson*, Hannah Freyer*, Grayson Huston*, Sabrina Hutchinson*, Kathleen McKeegan*, Megha Malpani*, Alexandra Merlke-Raymond*, Kendra Oulette*, Robin Petersen-Rockney*, Maggie Schultz*, Amy N.S. Siuda.  2019. The distribution and mitochondrial genotype of the hydroid Aglaophenia latecarinata is correlated with its Sargassum substrate type in the Sargasso Sea. Peer J.
Whittaker, K.A.; Jeff Schell, Deb Goodwin, Amy Siuda. 2019. Molecular divergence of holopelagic Sargassum species using extensive field samples from the tropical and subtropical Atlantic.  Extended Abstract.  Gulf and Caribbean Fisheries Institute Book of Abstracts.  71st Annual.
Whittaker, K.A., T.A. Rynearson. 2017. Evidence for environmental and ecological selection in a microbe with no geographic limits to gene flow. Proceedings of the National Academy of Sciences. 114:10.
Whittaker, K.A., 12-month Findings for the African coelacanth (Latimeria chalumnae) and Eastern Taiwan Strait population of the Indo-Pacific Humpback dolphin (Sousa chinensis). 2015. Federal Register.  FR 17398 and FR 21182
Whittaker, K.A. and Chelsea Young. Endangered Species Act status review report for the Taiwanese Pink Dolphin (Sousa Chinensis). Report to National Marine Fisheries Service, Office of Protected Resources. March 2017. 42 pp.
Whittaker, Kerry Endangered Species Act status review report for the coelacanth (Latimeria chalumnae). Report to National Marine Fisheries Service, Office of Protected Resources. October 2014. 47 pp
Whittaker, K.A., 90-day finding for the common thresher shark (Alopia vulpinus), 2014. United States, National Oceanic and Atmospheric Administration. Federal Register. 80 FR 11379.
Durham, B., J. Grote, K. Whittaker, S. Bender, H. Luo, S. Grim, J. Brown, et al. 2014. Draft genome sequence of marine alphaproteobacterial strain HIMB11, the first cultivated representative of a unique lineage within the Roseobacter clade possessing an unusually small genome. Standards in Genomic Sciences. 9:3.