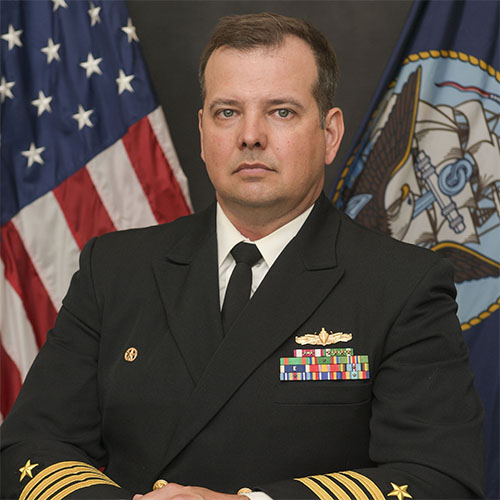 Captain Gary Chase
CAPT Gary Chase graduated from Maine Maritime Academy with a Bachelors of Science Degree in Marine Engineering and was commissioned an ENSIGN in 1997. He earned his Masters of Arts Degree in National Security Affairs from the Naval Postgraduate School in 2003.
At sea, CAPT Chase's assignments include tours as Division Officers on USS O'BANNON (DD 987) and USS ENTERPRISE (CVN 65); Department Head tours as the Operations Officer in USS MITSCHER (DDG 57) and Reactor Electrical Assistant in USS THEODORE ROOSEVELT (CVN 71); Assistant Surface Operations Officer for Carrier Strike Group Seven, embarked in USS RONALD REAGAN (CVN 76). He completed tours in USS LABOON (DDG 58) as Executive Officer from January 2014 until fleeting-up to Commanding Officer in July 2015. He completed his command tour in November 2016. CAPT Chase served as Reactor Officer in USS NIMITZ (CVN 68) from August 2017 to November 2019. He relieved as Commanding Officer in USS VICKSBURG (CG 69) in June 2021 and departed to assume command of USS NORMANDY (CG 60) in November 2022 until completing his major command tour in February 2023.
Ashore, CAPT Chase served as a Junior Board Member at the Atlantic Fleet Nuclear Propulsion Examination Board from January 2011 to April 2013 and COMNAVSURFLANT ACOS Operations (N3) from Nov 2019 to Oct 2020. He relieved as Commanding Officer NROTC Unit Maine Maritime Academy in April 2023.
Captain Chase's personal awards include the Legion of Merit, three Meritorious Service Medals, five Navy and Marine Corps Commendation Medals, and one Navy and Marine Corps Achievement Medal.
Gary married the former Allison Steigert from Bangor, ME in 1998. They have two daughters Mackenzie (2001) and Kelsey (2003).