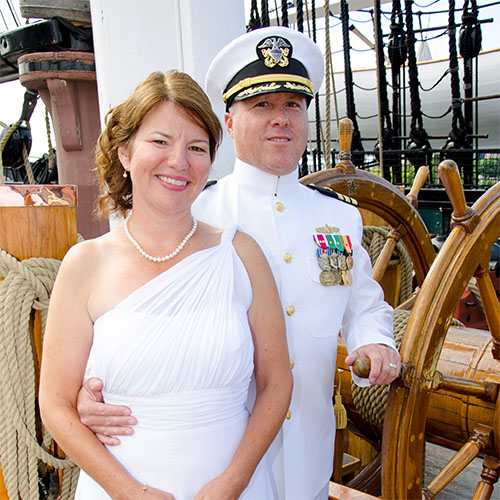 Captain Sean Kearns
CAPT Sean Kearns is the Professor of Naval Science at Maine Maritime Academy and the commanding officer of the Naval ROTC Unit there. A Surface Warfare Officer and nuclear propulsion engineer, CAPT Kearns has served in the US Navy for over 35 years and aboard 7 different navy warships, including command of USS CONSTITUTION in Boston, MA. Before coming to MMA, CAPT Kearns was the pre-commissioning executive officer on USS MICHAEL MONSOOR (DDG 1001), the navy's newest and most advanced warship.
A local boy, CAPT Kearns grew up in nearby Hampden, Maine and enlisted in the Navy as an Electronics Technician and Nuclear Reactor Operator. He later attended the Naval ROTC program at Boston University, earning a degree in Mechanical Engineering and commissioning as an Ensign in the Navy. He has since earned Master of Science degrees in Mechanical Engineering, and Naval Architecture & Marine Engineering at MIT, as well as a Master of Science in National Security and Strategic Studies at the Naval War College.
CAPT Kearns currently resides in Winterport, ME with his wife Julia (Patterson) Kearns.