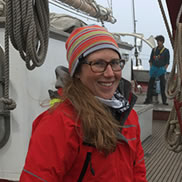 Kerry Whittaker
Department:
Ocean Studies
Title(s):
· Assistant Professor
Phone:
207-326-2173
Email:
kerry.whittaker@mma.edu
Office:
101 Dirigo House
Office Hours:
MWF 1300-1400 T 1100-1200 or BY APPT (Any Day)
[Zoom link: https://mainemaritime.zoom.us/j/98116446448?pwd=aUFKeE5QMVFVUDVvb1RBU0xhMDFRdz09]
Bio
Kerry Whittaker is the Visiting Sawyer Professor in the Ocean Studies Department. Her role at MMA is to help develop the new Coastal and Marine Environmental Science Major. Prior to joining MMA, Kerry was an Assistant Professor of Oceanography at Sea Education Association (SEA). At SEA, she sailed as Chief Scientist for multiple SEA Semester programs aboard the SSV Corwith Cramer and SSV Robert C. Seamans, two 134ft tall ships sailing, conducting oceanography, and offering academic semester programs for undergraduates in the Pacific and Atlantic Oceans. She has also held a role as Faculty Chair of Coastal Studies for Girls (CSG), a place-based semester school in Maine focusing on marine science and leadership education for high school girls. Kerry has previously taught courses in evolution and marine science Bates and Bowdoin Colleges. In 2014, Kerry was awarded a Sea Grant Knauss Fellowship where she worked for NOAA Fisheries, Office of Protected Resources, advancing endangered species listings under the US Endangered Species Act.
B.A. in English and Environmental Science from Colby College (2008)
Ph.D. in Oceanography from the Graduate School of Oceanography at the University of Rhode Island (2014)
Block Schedule: