Career Services
Maine Maritime Academy enjoys a long-standing tradition of producing graduates who are competent and ready to work in a wide range of worldwide industries. In support of the school's mission to empower students to take on leadership roles, encourage rigorous self-discipline, promote curiosity, and provide graduates with the skills, ethics, and knowledge needed to succeed in the global economy, Career Services provides the following:
Assisting students developing business skills and etiquette;
Career and internship preparation and planning;
Developing new business/corporate internship and career opportunities;
Resource for learning about companies and related industries;
Administering the academy's cadet shipping, co-op, internship, and field experience programs;
Maintaining the MMA online career center;
Managing career placement and associated data.
With a placement rate of approximately 95% within six months of graduation, MMA consistently produces students who are committed to their industry, know the value of hard work, and understand what it means to be professional. MMA's unique academic programs combined with extensive practical, hands-on training in the fields of engineering, marine transportation, business, logistics, and science enable our students to join the workforce immediately upon graduation.
An incoming freshman is expected to interact with students, staff, faculty, and alumni in a professional business manner from the day they arrive on campus. These skills are important as many students will begin looking for their first internship and interacting with industry leaders shortly after arriving on campus. Setting and supporting high standards is an important part of student career development.
Career Skills and Development
During the fall semester of the freshman year, career services will begin discussing resumes, business etiquette, internship and career planning, interviewing skills, proper use of social media, and develop business networking skills. These first-year interactions combined with our annual career fair, etiquette dinners, and company visits give students the opportunity to develop these skills through interaction with our industry partners and alumni.
As students progress through their career at MMA, they will interact with the Career Services office through their field experience coordination, cadet shipping program, company visits, career fair, and our online career center. We are available for one-on-one counseling for students at any time for career-related matters.
Career and Internship Planning
Student preparation and planning for their field experiences is a very individual process. Career Services works directly with students, faculty, and industry leaders to assist in the coordination of these experiences that support the undergraduate curriculum, contribute to personal growth and professional competency, and serve our partners in industry. We are in the unique position to assist bringing industry and students together while supporting and promoting the mission of the academy.
Career and internship counseling and planning should begin soon after the student arrives on campus and then continues to refine the process throughout the student's time at Maine Maritime Academy. Career counseling is a very important part of the process and can often assist students refining their needs or assist with looking at different options We extend an open invitation to all students and alumni to visit our offices in Captain Quick Hall if they require assistance.
Annual Career Fair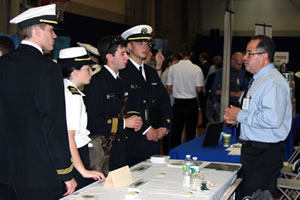 Mark your calendars!  Our fall Career Fair is on the third Thursday in October.
Maine Maritime Academy's Annual Informational Career Fair is one of the most important events of the year, attracting companies and alumni from across the country eager to meet our students and discuss employment and cooperative educational opportunities.
Students have the opportunity to get their resumes in order, dress for success and network with many of the country's top employers and alumni. The attendee's list does vary year to year; students are encouraged to attend each year and interact with company representatives and alumni developing their networking skills and learning about companies that they are interested working for either on an internship or future employment.

With around 90 companies attending and covering the maritime, power plant, logistics, and scientific industries, there are plenty of opportunities for students to interact with companies and alumni regardless of their chosen major. View current list of participating companies.
Registration and Additional Information
Campus Recruiting Visits
In addition to our annual career fair, we are fortunate to host companies for campus recruiting visits during our spring semester. Typically, our guest company will offer an afternoon presentation highlighting the company which is open to all interested students, faculty, and staff. If there is an opportunity for interviews, these usually take place the following day (with sign-up at the presentation).
Company recruiting visits are a great way for a student to interact with alumni, company representatives and learn about different options for internships and future employment. The small sessions allow students the possibility of networking and showing interest in a specific company and receiving feedback. Recruiting visits often lead to internship and employment opportunities if the students have prepared properly.
Resources for more information, including the schedule:
College Central Network – CareerCenter.mma.edu
Career Services uses the CCN online platform to host our career oriented information. It takes less than 5 minutes to activate your account the first time and have access to company visits on campus and when career events are occurring.
Co-ops, internships, interviews, company visits, work study, and job opportunities are some of the offerings on this site. It's easy to access, students are preregistered with their ID numbers; simply activate your account, fill out your profile information and you have access. You can even sign up to have emails sent to you with job opportunities that you have predefined.
Alumni are encouraged to sign up as well. Jobs, mentoring, and access to the school's employment event schedules are accessible.
There is a wealth of information on the CareerCenter site. Interview tips, resume examples, a calendar of events, the ability to apply for jobs and sign-ups for interviews are just a few of the things available. Don't wait sign up today!