Today was Elmer Perkins' burial at sea. Elmer was a Maine Maritime Academy graduate from the class of 1945 and served as a merchant marine during World War 2. The regiment gathered for a muster on the fantail of the ship, company commanders reported in, and the ceremony began. Captain MacArthur started off by speaking about who Elmer was, and his accomplishments. The following is the text of his speech: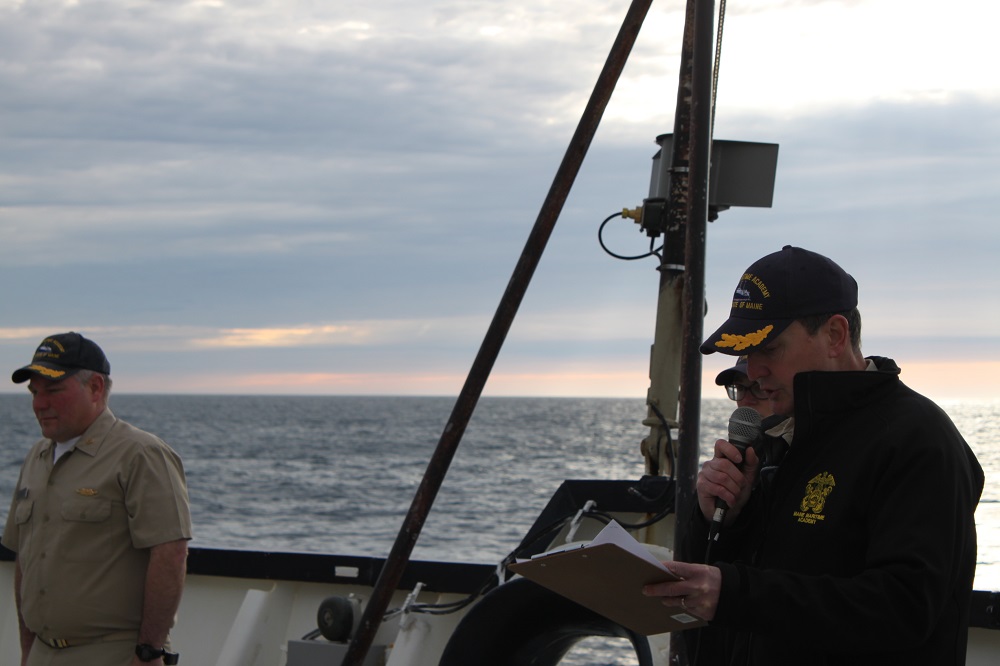 "Good morning, everyone. The ceremony that we are about to take part in is at the request of one of Maine Maritime Academy's Alumnus and Merchant Marine. This ceremony is solemn and is steeped in naval tradition. Let us together pay our respects.
Regiment, Parade Rest.
Elmer W. Perkins, Jr. age 95, of St. Petersburg Florida, passed away at home surrounded by his loving family on December 2, 2021. He was born and raised in Maine. He attended Maine Maritime Academy and graduated in 1945. Elmer then married the love of his life, Katherine Parcher, and they spent 64 amazing years together before she passed in 2009. He served his country honorably in the Merchant Marines during World War 2. After working various jobs, Elmer served as Union President for the United Food and Commercial Worker Union in Tampa, Florida. Upon their retirement, they traveled in their R.V. with their dog Friday. Some of their favorite places to visit included Alaska and Prince Edward's Island in British Columbia. They were beloved grandparents to their grandchildren and great grandchildren. Elmer was preceded in death by his soul mate, Katherine and his sister Carolyn Reichel of Maine. He is survived by his son Elmer W. Perkins III of Gainesville; granddaughter Carey Ann Clark of Stanley, North Carolina; grandsons Kyle W. Perkins of St. Petersburg and Brett Perkins of Gainesville; great-grandchildren Christopher, Casey, Kyle II, Clayton, and Brett JR.; two great-great-grandsons and nieces Ann and Sue of Maine."
Next, Cadet Master 2/C Shannon Estus read a passage about eight bells: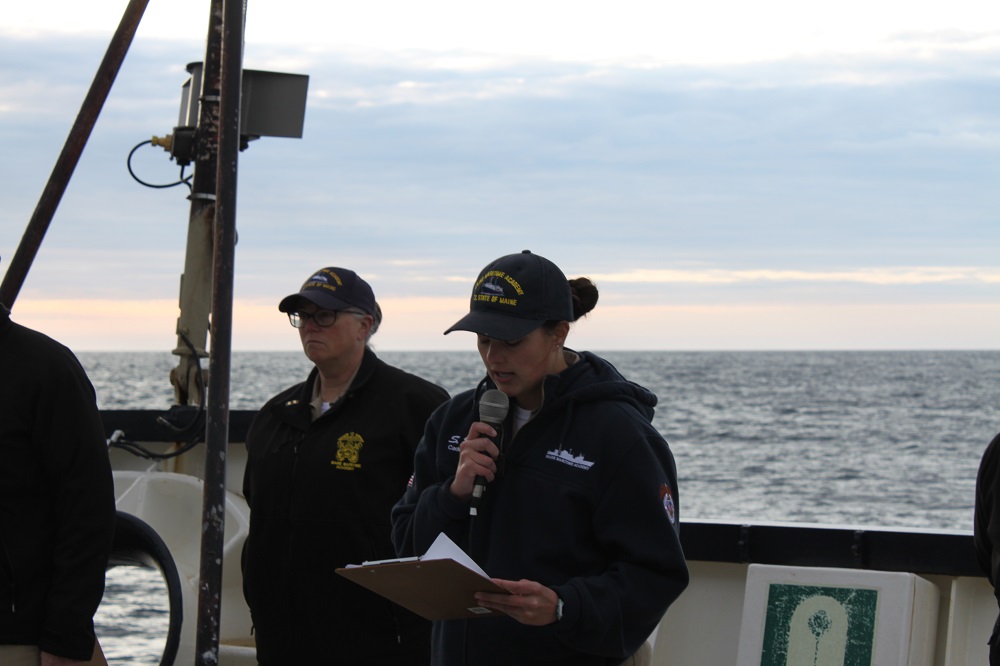 "Onboard timekeeping has been an integral part of shipboard life since the earliest days of long-distance navigation. Traditionally, the ship's bell rings every half-hour throughout the day, every day. Each half hour, a chine is added until eight balls are reached, signifying the end of a 4-hour period or watch at which time the current watch group is relieved and a new group assumes operations.
Today we recognize the end of the watch for Mr. Elmer Perkins, MMA Class of 1945."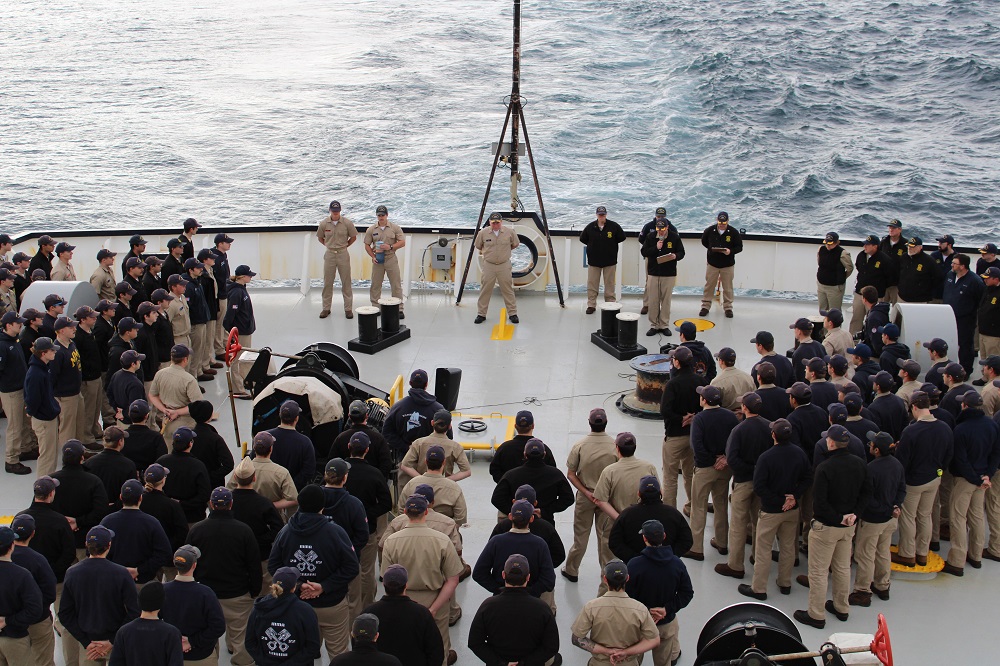 Following this, Captain Cashman called the regiment to a position of attention and percussionist 4/C Pelletier, N. rang the bell 8 times. 4 sets of strikes, 2 strikes each. Captain Cashman ordered a hand salute, and 1/C Eli Moulton, assisted by 2/C Pieter Oudejans, assisted Elmer in his departure from the ship. The ship's whistle sounded as Elmer departed, and once complete, Captain Cashman called order arms and the ceremony concluded.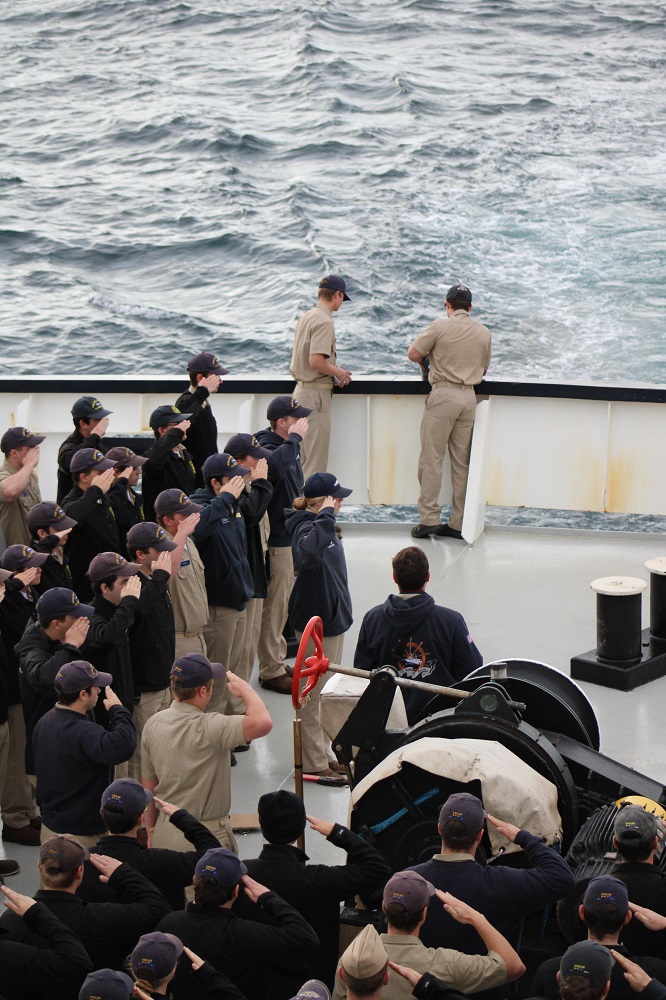 Thank you to Commander Christian, Captain Macarthur, Captain Cashman, and Cadet Master Estus for speaking at this event. Thank you to 4/C Colin Cacciatore & Nathan Pelletier for manning the bell, 1/C Eli Moulton & 2/C Oudejans manning the ashes, and 2/C John Egger & 4/C Lincoln Graff for manning photography.