Vision 20 | 20
In September of 2020 President Brennan announced the receipt of a $750,000 grant to support MMA scholarships, thanks to the generosity and spirit of 1,797 alumni and many other friends and donors.
In 2017, the Alfond Foundation challenged MMA to raise a cumulative total of $2.25 million and increase the alumni participation rate to 20% in annual fund giving over three fiscal years. Vision 20|20 raised over $2.7 million and reached 24.5% alumni participation by the end of fiscal year 2020, June 30th.
"We have increased our alumni participation rate by 15% in the last decade, which is a significant accomplishment," said President Brennan. "This momentum, due in large part to the challenge and the energy of our alumni, will propel Maine Maritime Academy toward the goal of creating a culture of giving to ensure the school's sustainability well into the future."
Approximately 80 percent of MMA students require need-based scholarship assistance annually. The $750,000 grant will be added to the Harold Alfond Engineering Scholarship Fund, established in 2014.
"We are extremely grateful for our outstanding staff and our dedicated Alumni Advancement Committee, a group of 38 alumni volunteers who emailed, called, wrote letters, and reached out to classmates via social media to encourage support for the academy," said Capt. Larry D. Burrill '77, Alumni Advancement Committee Chair.
"We are so pleased that Maine Maritime Academy not only met this challenge, but substantially surpassed it," said Harold Alfond Foundation Executive Chairman, Greg Powell. "Our goal was to assist the Academy in creating a culture of giving, and by raising well over the challenge goal of $2.2 million and reaching 24.5% alumni participation, this fine school is well on its way."
Alumni participation now aligns the Academy with some of the very best private colleges in the US. This expression of the value of an MMA education is further highlighted by recent "Best Colleges" and "Best Return on Investment" rankings as reported by US News and World Report, The Washington Post, and Money Magazine.
Help maintain the momentum in 2021!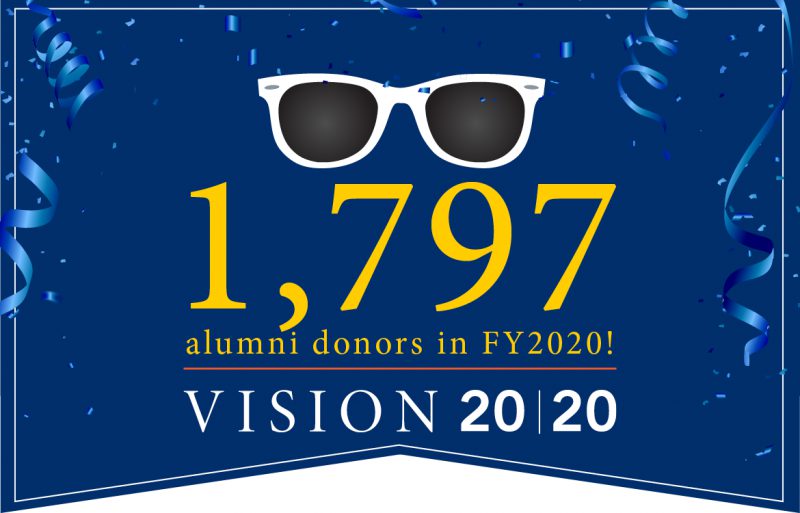 Alumni Participation by Class