Maritime Alumni Challenge
2021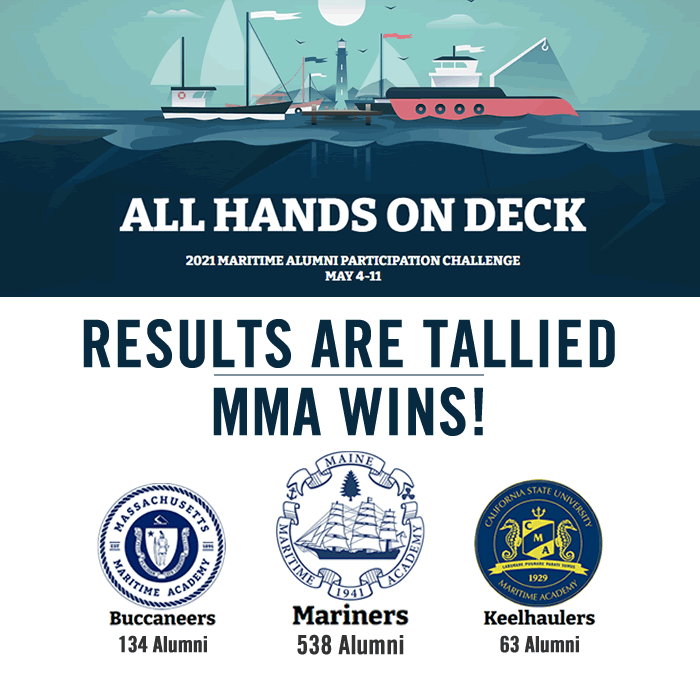 Thank you to all the Mariners that helped us win (again!) the competition with our fellow maritime academies.
The Maritime Alumni Challenge brought in more than 10% of our Annual Campaign dollar goal and it increased our Annual Alumni Participation Percentage to 14.01%. We've rounded the last mark and are headed to the finish line on June 30th.
2020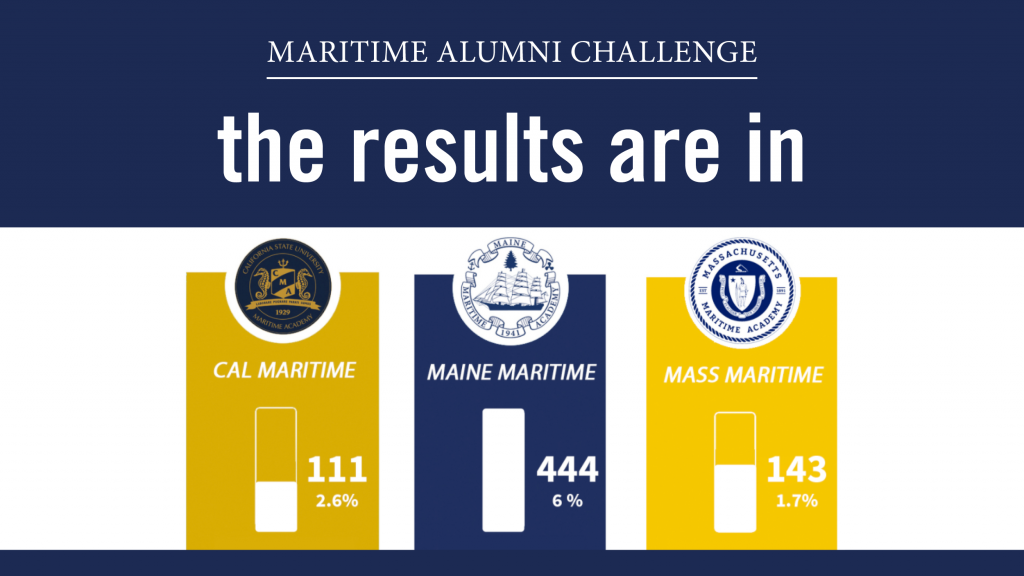 Mariners Win the Maritime Alumni Challenge Again!
The results of this year's Maritime Alumni Challenge are:
California Maritime Keelhaulers: 111 of 4,937 = 2.6%
Maine Maritime Academy Mariners: 444 of 7339 =  6.0%
Massachusetts Maritime Academy Buccaneers: 143 of 8,623 = 1.7%
Due to the COVID19 pandemic and each of the participating schools' focus on immediate needs, the 2020 Maritime Alumni Challenge was shortened to just one week. It ran from May 17 – 23 this year. We missed the participation of SUNY Maritime Academy as they are working to establish an emergency fund; our hearts go out to those who live in the state most affected to date by the pandemic. Given the resulting economic situation and the increase in the number of families struggling financially, all of our students will need more financial assistance in the coming year to help them continue their maritime education.
This year's Maritime Alumni Challenge dovetailed with the culmination of the three-year Annual Fund Vision 20|20 campaign, an initiative that began with a challenge given to us by the Harold Alfond Foundation in 2017. We could not be prouder of our alumni for supporting MMA during the Maritime Alumni Challenge and are thrilled to announce that we have once again earned the lead! More importantly, we have sailed past the threshold of 20% alumni giving to our Annual Fund which helps us meet the qualifications for the Harold Alfond Foundation's grant of $750,000 toward student scholarships. We continue to move ahead toward the June 30th deadline for the Vision 20/20 campaign and see a bright future for MMA and our students.
2019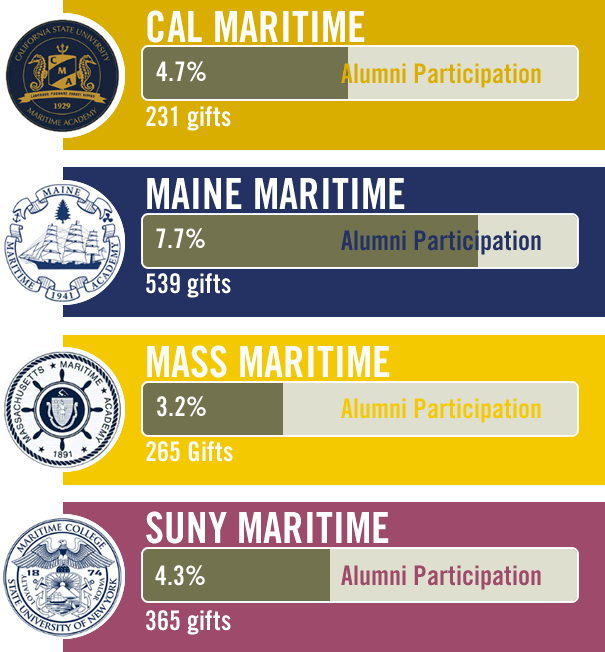 Maine Maritime Academy won in 2018 and thanks to the generosity of our alums, we led the way again in 2019! Thank you, Mariners.