Our plans for Bermuda turned sour, but being the resourceful midshipmen that we are, a decision was made to putt around the Caribbean until we could make our way to Fort Lauderdale, Florida! During transit students and crew enjoyed a pretzel bar night followed by a showing of White Chicks in the forward main deck lounge.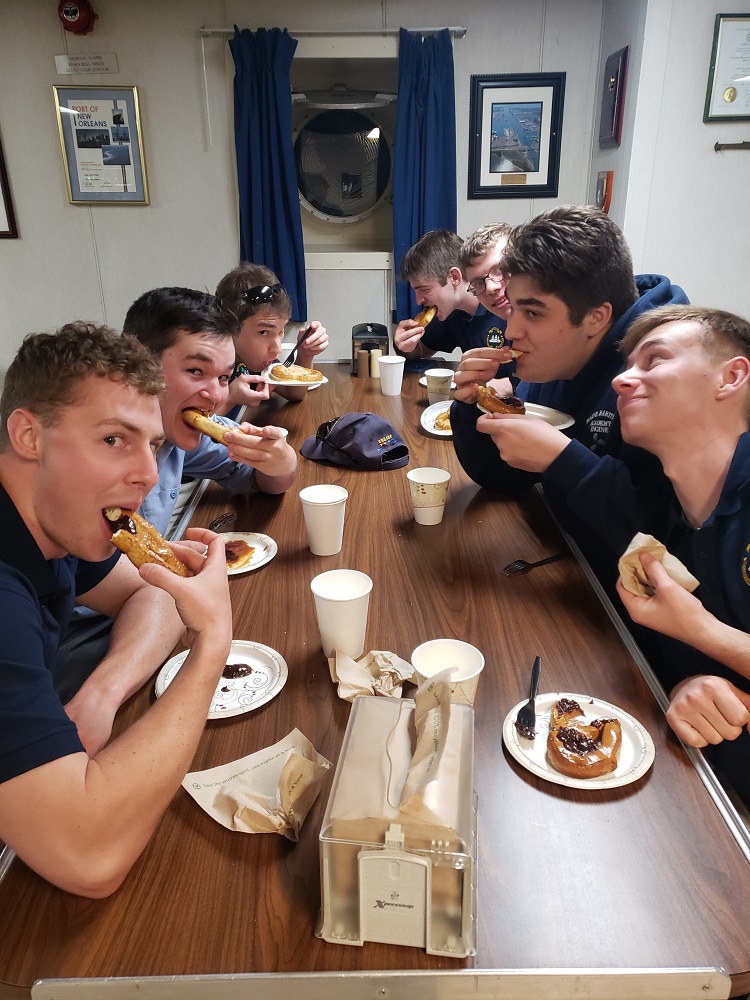 Utility and maintenance work continued in the engine room and elsewhere to get the ship ready for its stop in Fort Lauderdale. Students painted, upgraded lighting, patched leaky plumbing, and otherwise helped to ensure the ship's systems were operating as expected.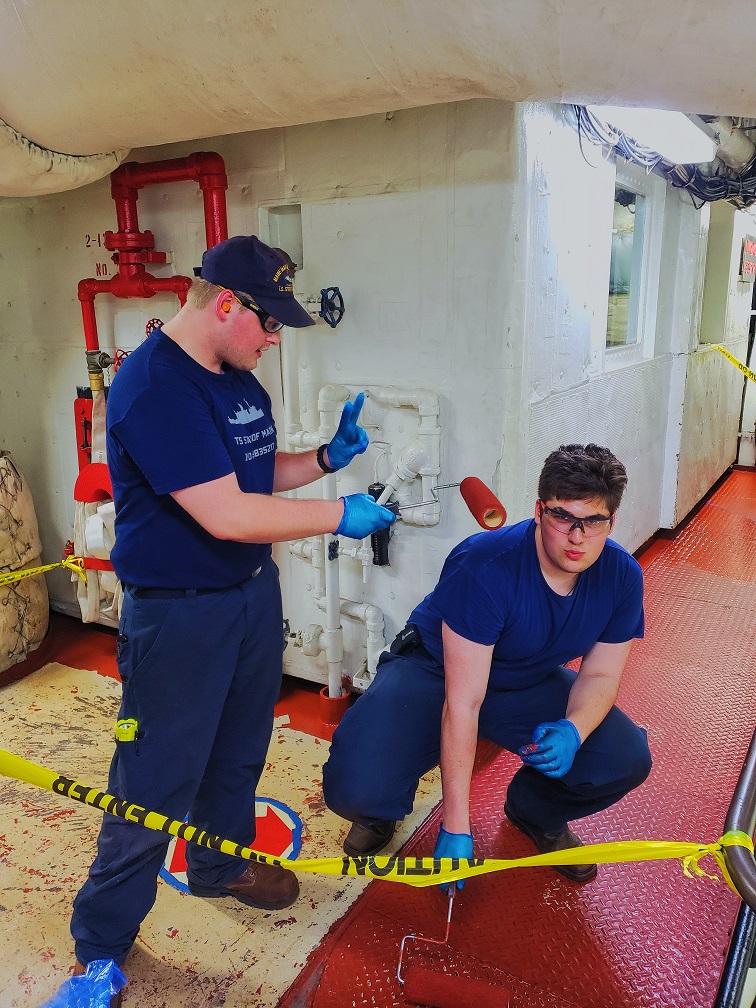 Another evening during this stretch, students caught their best haul yet; a beautiful and brightly colored Mahi Mahi. They posed with it for a while before they finally got the hot work permit required to use the outdoor grill. We had ourselves a fish fry under a brilliant setting sun.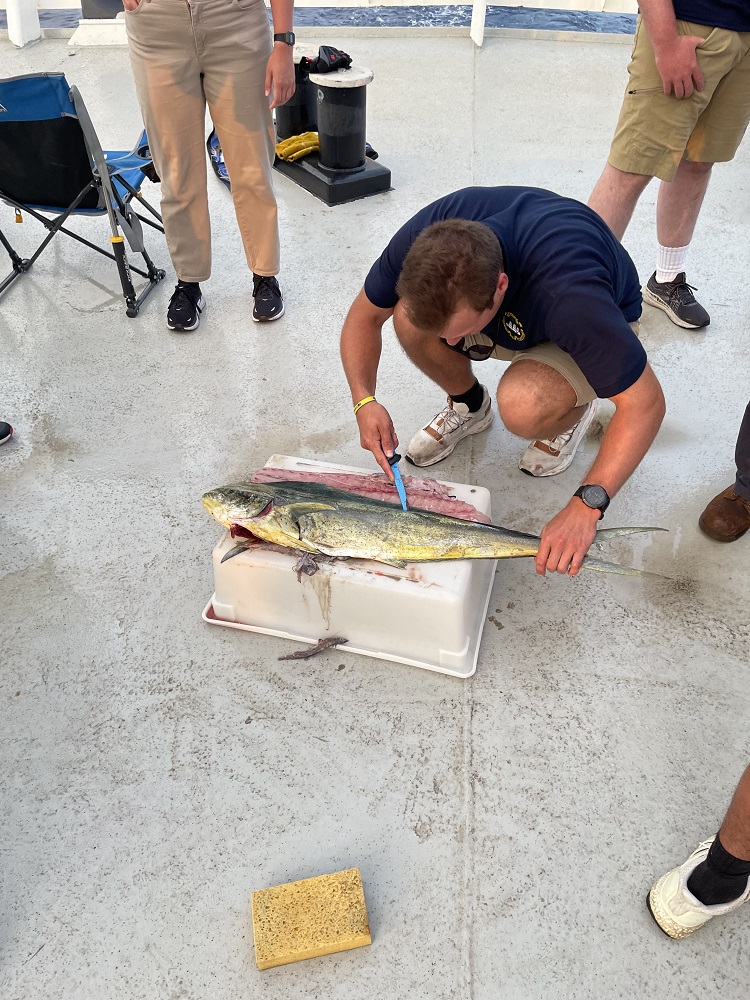 Then, on May 11th, a ping pong tournament was held! Dozens of competitors moved their way up the bracket until only three remained. In the top three were Jay Hinson, Andrew Kennedy, and Odeh Rizkallah. To start off the round robin, we have Kennedy vs. Hinson. The two traded points for some time, giving the crowd a show with last second saves and electric returns. Ultimately Kennedy's speed was too much for Hinson's defense, making Kennedy our first winner (21-13). Next, we have Kennedy vs. Rizkallah, both aggressive players with great defense. The two delivered speedy attacks and traded daring returns, but Kennedy came out on top, ending the duel 21-13.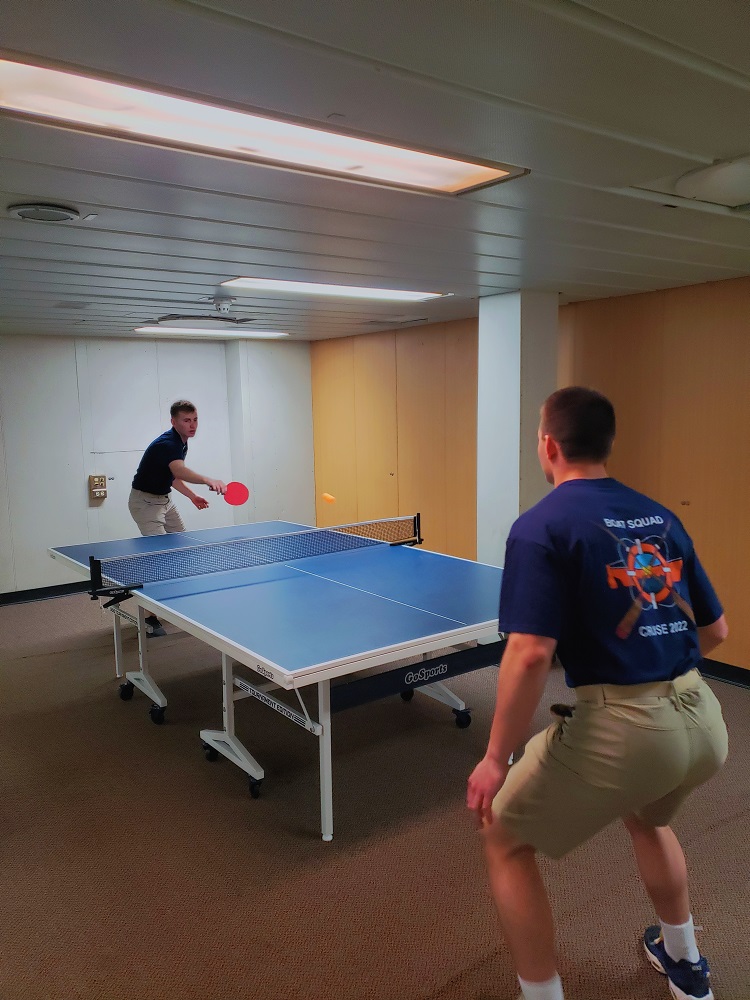 Kennedy won both bouts, meaning our two other competitors had to battle for another chance at the ping pong throne. Hinson vs. Rizkallah. At this point in the tournament, Hinson's defense was wearing down, and Rizkallah's aggressive serves and last second returns gave him an edge against Hinson. Rizkallah won the battle 21-12, leaving us with a best of three bout between Rizkallah and Kennedy. In an electric match that took place with hairsplitting speed, the two competitors were locked in and playing at their best. They stayed neck and neck most of the match, trading point for point. Match point, Rizkallah was up 23-22 during overtime, Kennedy's serve. Rizkallah returned the serve for a beautiful final volley of the match, and he scored! Rizkallah defeated the so far undefeated Andrew Kennedy 24-22. Things were looking grim for Kennedy; if he lost the next match, the tournament would be over, and he would get second place. Match 2/3, Kennedy warmed up to Rizkallah's playstyle, and was ready to deliver the returns to win the match. Kennedy defeated Rizkallah 21-16 to save himself from a grim spot!
The final match of the tournament was next. It could go to either player. With everything on the line, the two began their battle. For the first few points the scored stayed close, but soon enough Kennedy began pulling away. At match point, Rizkallah began delivering serves that Kennedy struggled to return, and the gap began to close. One wrong move and Rizkallah would lose it all. Suddenly Kennedy found the key to returning Rizkallah's serve, and the game was on. Hit after hit the volley went on, with edge of the table saves and yells from the crowd. In the end, Kennedy scored one final point on Rizkallah to cement himself as our first Cruise 2022 ping pong world champion!