For a change of pace, here is a little tour of the engine room and the associated machines that keep this ship functioning:
This is the EOS (Engine Operating Station) and the main control board for the engine room where the engineers can monitor and control many of the different machines such as the main engine, cooling systems, generators, and more.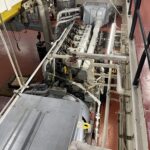 The SSDGs are diesel generators used on board for generating power for all the ship's functions. There are three onboard the TSSOM.
The main engine is what is used for providing propulsion to the ship.
Shaft alley is the area that the shaft for the propeller runs through before exiting the ship and connecting to the propeller.