Day 16: Sunny, E Wind at 7-12 kts, 81°F Air
As we prepare for our arrival tomorrow morning in St. Croix, members of the company morale officers hosted one of the students' favorite events, cornhole!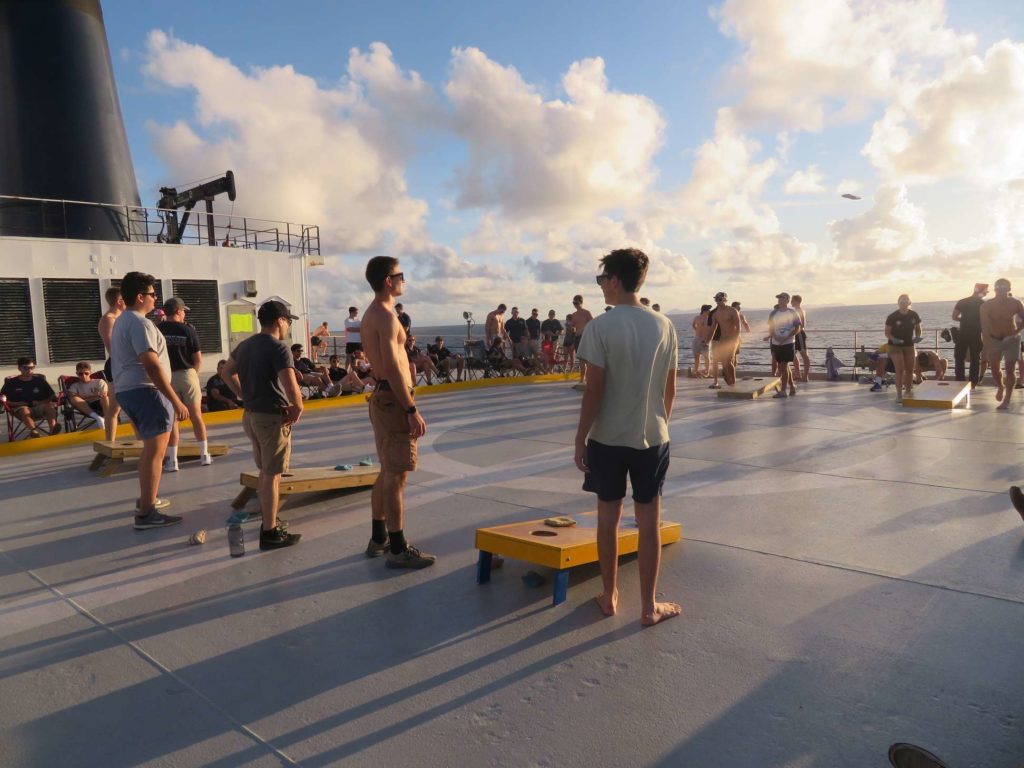 While here, students are allowed civilian attire to get into the full swing of participation in the event. Competition is fierce between new players as well as returning champions, all in friendly competition. Our winners tonight were 1/C Boone and 1/C Oliver, but we congratulate all that participated for a wonderful competition!
Day 17: Overcast, E Wind at 10.43 kts, 86°F Air, 82.4°F Sea
With our arrival to St. Croix, students were very eager to get off the training ship to explore the island. Tugboats were alongside at approximately 10 am and we began to pull into the dock next to the Celebrity Equinox. For many this was a reminder of the industry that our students will enter, where the TSSOM feels big now, but, it is a small fish in the sea of the commercial fleets of vessels. As we were made fast on the pier, many onlookers aboard the cruise ship came to see the training ship and her operations of securing motion against the pier.
Due to the Training Ship's limited connectivity, blog postings are delayed and are not intended for real-time communication. To communicate with your student, please send a message to his or her issued e-mail address.