Douglas S. Glenn '64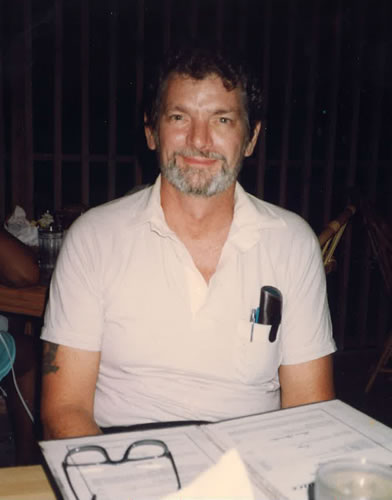 Capt. Douglas Smith Glenn graduated from the Maine Maritime Academy in 1964 after attending high school at the Admiral Farragut Academy in Pine Beach, NJ. Born in Mineola, NY and raised in Hillsdale, New Jersey.
Doug came from a family with a nautical history. As Doug wrote years ago in a published history of LAST OF THE BOOM SHIPS … "I have a seagoing heritage. My father … and my grandfather went to sea, and my grandfather's ship was torpedoed off the coast of Greenland during WWII. My mother worked in the Paymaster's Office of United States Lines in NYC.
When family friends passed through, I heard stories from all over the world. The sea was ingrained in me and I had a wanderlust from a young age." After graduation, Doug immediately sailed for a couple of years with his Third Mates License on the (Victory Ship) SS Remsen Heights with American Export-Isbrandtsen Lines —  and quickly advanced his license to that of Chief Mate.
He continued with American Export Lines aboard various other of their break bulk cargo ships until he joined the NS Savannah in 1965, and continued on the Savannah in Third, Second, and Chief Mate billets. He also earned his Reactor Operator's License after studying in Furuseth Hall at the United States Merchant Marine Academy in Kings Point, NY. He continued on the  Savannah until it was deactivated in 1972.
From 1972 to 1978, Doug continued with American Export Lines until a Captain's position came up in 1978 … he then skippered the diesel-powered research vessel, the RV Fay, working in collaboration with the US Navy, along with his brother Alan on board in an unlicensed ER billet. Then with his Master's License, Doug was off to LNG (Liquefied Natural Gas) transport school with Burma Oil and Energy Transportation Corp., and was Captain aboard the LNG Aquarius and several of her sister ships until he retired in 2000 — after 35 years at sea.
The last 20 years aboard the LNG ships were primarily going between Indonesia and Japan, carrying LNG Cargo through the sometimes treacherous Straits of Malacca. Doug made many friends in these years, and had a beautiful estate built in Dauin in the South of the Philippines. In his retirement, Doug split his time between the Florida Keys and the Philippines, and continued to travel the world as a civilian. To all who were blessed to know him: we lost a great friend, terrific shipmate, talented and dedicated Mariner and a wonderful mind. He passed away in the Philippines on October 29. Requiescat in Pace!