Personal Survival Techniques (PST or Ocean Survival)   |   $400.00
2023 Dates
June 16   |    Register Now
Course
12-14 Hours
Course Description
This course is intended for individuals who have never completed Personal Survival Techniques in the past.  Conducted in both the classroom and the pool, we will cover emergency situations, evacuation, survival craft, personal life-saving equipment, and survival at sea.  There is a written exam for theory. The practical assessment is completed in the Academy's indoor pool by the instructor.
*Please note, after January 1, 2017, this certification is only valid for 5 years and must be renewed.
USCG Approval
Applicants who successfully complete our Personal Survival Techniques course will satisfy the Personal Survival Techniques training competency requirements of STCW Code Section A- VI/1  and 46 CFR 11.302(a)(1) and 46 CFR 12.602(a)(1).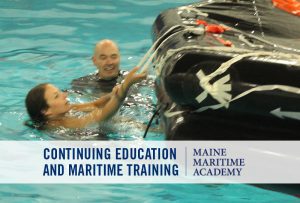 ---
*Merchant Mariner license holders must contact the US Coast Guard directly for particulars concerning their licenses upgrade or re-certification questions: Call the National Maritime Center at 1-888-427-5662 or visit online at Merchant Mariner Licensing and Documentation.
At this time there are no classes scheduled. Please check back for updates or email
continuinged@mma.edu
with any questions.