Maine Maritime Academy connects people from all over the world. Our community of alumni, students, faculty, and staff, along with friends and family, shares a strong bond with this unique institution. The Alumni Relations office supports the alumni network, fosters connections across classes, shares stories, and keeps the spirit of the MMA experience alive and well long beyond graduation. Alumni Event Ideas
---
MMA Alumni Association Confirming Contact Info for Registry
The Maine Maritime Academy Alumni Association recently partnered with Publishing Concepts, Inc. (PCI) to create a new alumni directory in an effort to ensure our Mariners stay connected with one another and with their alma mater. The gathering of information is free for the alumni association. PCI makes their money off the sale of registry ($160 per copy, plus tax, s/h) and swag (varies). No purchase required.
The campaign will be conducted over the next several months and will include a) postcards with the Alumni Association seal and signed by the association president Bill Full '76, b) email requests, and c) phone calls. So, if you receive an email, postcard or phone call from PCI asking for personal information and said they were working with Maine Maritime Academy, all is good.
If you have any questions about the new alumni directory and our work with PCI, don't hesitate to contact the Alumni Relations Office at 207-326-2337 or alumni@mma.edu. Thanks in advance for your participation.
---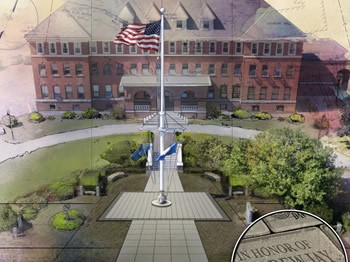 MMA is embarking on an exciting new project to beautify one of the most iconic locations on our campus: the central quad. Located in front of historic Leavitt Hall and adjacent to Quick Hall and the Alfond Student Center, the quad regularly hosts muster, annual ceremonies, visiting families, and more. As we revitalize the quad, we invite you to honor a loved one, alumni, or current student with a personalized paver.
---
MMA Alumni Business Directory
---
---
Whether you are across the street or halfway around the world, MMA is just a click away. Stay connected, get involved, and keep in touch! Submit alumni news and/or class notes and provide your career updates.
Office of Alumni Relations
Castine, ME 04420
207-326-2337
alumni@mma.edu