Maine Maritime Academy Surpasses $20 Million Opening Doors, Changing Lives: The Scholarship Campaign for Maine Maritime Academy
Academy to Conclude Campaign 18 Months Early
CASTINE, Maine—Dr. William J. Brennan, President of Maine Maritime Academy (MMA), announced today that the college has exceeded its target of $20 million in its three-year Opening Doors, Changing Lives: The Scholarship Campaign for Maine Maritime Academy eighteen months ahead of schedule. The effort will conclude with nearly $20.5 million raised.
In 2019, the Academy launched the campaign with a goal of doubling the amount of scholarship aid available to students.  A lead gift of $10 million from the estate of Captain William L. Bullard '59, the largest in the school's 79-year history, set the pace.  The campaign went public in March, 2018 with $14 million. "I was stunned by the generosity of our alumni, parents, friends, and foundations toward this effort.  I owe a great deal of gratitude to our campaign steering committee and those who unselfishly made this effort a true success by helping future students who want an MMA education," said Academy President, Dr. William J. Brennan.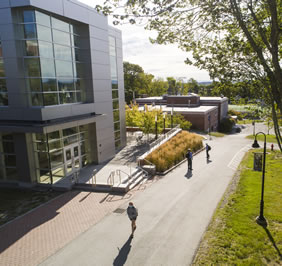 "In addition to increasing the amount of aid available to our students, we have built a culture of volunteerism, which is also a significant accomplishment," said President Brennan. "This momentum, will help us as we define the next step in our fundraising efforts."
Approximately 80 percent of MMA students require need-based scholarship assistance annually.
"We are extremely grateful to those who generously stepped up and supported this campaign.  I am looking forward to the next chapter in the Academy's fundraising and building on the momentum we have created over the past eighteen months, said Wayne Norton '86, Campaign Co-Chair.
During the three years of campaign counting, Maine Maritime Academy experienced a 70% increase in the market value of its endowed scholarships. While some of this growth was a result of investment income, a large percentage was the result of gifts added to the endowment.
Maine Maritime Academy is a co-educational, public college on the coast of Maine offering programs of study in engineering, management, science, and transportation. The college serves approximately 950 undergraduate and graduate students in career-oriented degree programs. The job placement rate for MMA graduates regularly exceeds 90 percent within 90 days of graduation and the college is consistently recognized for providing a high-value education by organizations such as the Brookings Institution, Washington Monthly, and U.S. News and World Report. For more information, visit mainemaritime.edu.