Maine Maritime Academy Assists Local Fishing Vessel
CASTINE, Maine – On Friday, December 18, Maine Maritime Academy received a call from the U.S. Coast Guard requesting assistance for FV Eastern Star, a disabled vessel off of Cape Rosier in Penobscot Bay.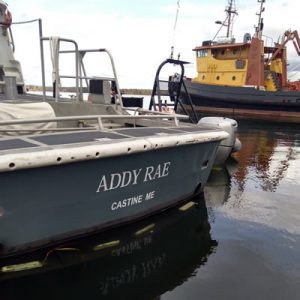 MMA employees Captain Dana Willis, Captain Zander Parker, and Captain Kelly Gunthorpe answered the call quickly. They prepared MMA's Addy Rae, a former Coast Guard 41' UTB, gathered a pump, clothing, and other emergency supplies and headed out around noon to locate and assist the vessel.
The team located Eastern Star drifting towards Western Island; prior to their arrival, several efforts to anchor and restart the engine were unsuccessful. As Addy Rae approached, Eastern Star was able to regain power and proceed slowly through rough waters towards Bucks Harbor. The crew aboard Addy Rae remained with the vessel until it was safely moored. They returned to Castine just before sunset.
"Our staff demonstrated the true meaning of the phrase 'Mariners help each other and support one another'" said Dr. William J. Brennan, President of Maine Maritime Academy, in an email. "It can be challenging to operate a small vessel in winter weather but there is comfort in knowing that mariners in our area can rely on one another for mutual help and support."
Maine Maritime Academy is a co-educational, public college on the coast of Maine offering programs of study in engineering, management, science, and transportation. The college serves approximately 950 undergraduate and graduate students in career-oriented degree programs. The job placement rate for MMA graduates exceeds 90 percent within 90 days of graduation. The college is consistently recognized for providing a high-value education by organizations such as U.S. News and World Report, Washington Monthly, and Money Magazine.