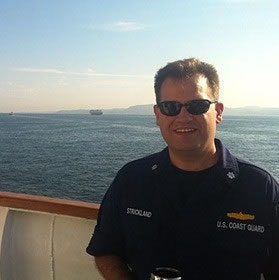 Ben Strickland is a retired U.S. Coast Guard Commander with specialties in joint maritime operations, national security policy, and international business development. A licensed merchant mariner, he is a 1995 graduate of Maine Maritime Academy.
Ben Strickland served over 20 years in the U.S. Navy and U.S. Coast Guard where he qualified as a Surface Warfare Officer and served worldwide in the full range of Maritime Operations and Marine Safety missions. During his naval service, he was assigned in a variety of executive positions in mission planning and execution, force training and operational readiness, homeland security, merchant marine industry regulatory compliance, new ship construction, and national defense policy. He has managed complex independent and multi-unit operations from the Arctic to Australia, circumnavigated the globe, and patrolled the waters of the Atlantic, Pacific, Arctic, and Bering Sea while serving aboard six Navy and Coast Guard ships, including command of USCGC ROANOKE ISLAND (WPB-1346) at Homer, Alaska.
After Ben Strickland's retirement from active duty, he continued his service to the federal government as a civilian National Security Specialist. There he provided advice and guidance concerning the use of merchant shipping and strategic ports in support of U.S. and NATO military operations. Additionally, he was responsible for emergency response operations planning as well as continuity of government programs.
Now in the private sector, Ben Strickland serves as an international business development lead for the identification, qualification, pursuit and capture of new opportunities. As such, he performs portfolio analysis that identifies and qualifies markets and partnerships which aid in the development of long-range strategies for naval surface combatants, including Aegis combat system, solid state radar sensors, anti-submarine rocket, Vertical Launch Systems, tactical and strike missiles, and precision strike weapons.