Stay Connected
Thank you for attending Maine Maritime Academy's Virtual Open House. There are many ways for you to continue your connection with us starting now using the following resources and as always please contact us with any questions.
Zoom meetings with admissions counselors schedule:
April 27th thru May 1st | Monday thru Friday
Maine Maritime Academy Mobile App:
Download the app to take a walking tour of campus and more.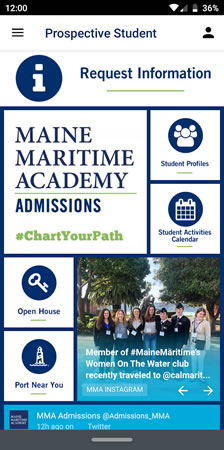 Admissions social media channels:
Follow us to stay up-to-date on admissions news
#ChartYourPath
MMA Parents Association (MMAPA)
The Maine Maritime Academy Parents Association is an information resource and support network made up of parents, family and friends of MMA students interested in helping the school provide the best possible education and experience. For more information, visit the MMA Parents Association section of the MMA website and the MMAPA facebook page!
Open House video Session recordings: