Homecoming – Family and Friends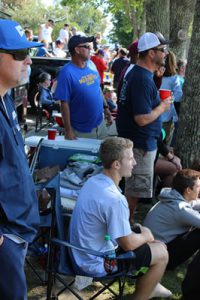 You're invited to campus to root for the Mariners and meet other families and alumni! We'll have plenty of activities to keep you busy, from attending morning formation to playing in the Alumni & Friends Golf Scramble. Bring the family – it'll be fun for all ages with an inflatable fun zone and family-friendly movie.
On Friday night, join us for music and food. It's sure to be a great time, listening to live, local talent.
Saturday we will be offering boat rides on both Bowdoin and Capt. Susan J. Clark. Enter the lottery for your chance to take a ride on either of these MMA vessels.
Event Information
Online Registration has been closed please contact the Alumni Relations Office
Buy Tickets Online – Closed please contact the Alumni Relations Office
– Friday night entertainment featuring Danny and the Bluetones | Available at check-in or at the door
–  Friday's Golf Scramble | contact the Alumni Relations Office
Event Map (PDF)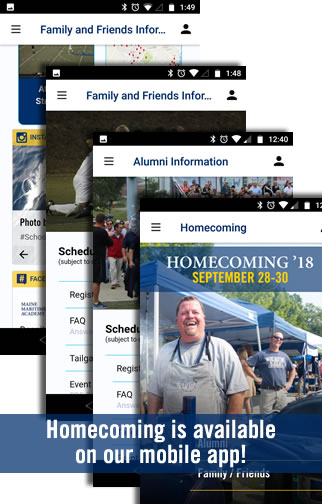 Regimental Induction Ceremony
Please note that if your student is a first-year regimental student, you will be invited to the Regimental Induction Ceremony October 7, 2017. Due to regimental training, first-year students will have limited liberties during Homecoming weekend. Homecoming events are otherwise open to all students. Click here or contact Janet Acker at 207-326-2250 or janet.acker@mma.edu for more information about RIC Weekend.