Join the Camaraderie
Dear Fellow Alumni,
I hope your summer has been wonderful and that you have spent time with family and friends. It always amazes me how quickly time seems to pass by. It's a subtle reminder to us all how important it is to pause and reflect upon the things we take for granted every day; and, most importantly, to make time for those around us.
I want to take this opportunity to thank all of you who have contributed to the 2018 annual fund. Although we are having great success financially, the challenge remains our participation level. It is not necessarily how much we contribute, but rather that we increase the level of participation by alumni. To be eligible to receive matching contributions we must reach both a financial goal and have 20% alumni participation annually.
Homecoming is the weekend of September 29, and the alumni office is planning a host of activities. Please join in the camaraderie and enjoy a weekend with fellow classmates and alumni.
Over the past few years, more and more Mariners have enjoyed the festivities, such as tailgating and Honor Alley along Pleasant Street. I hope you can make it to Castine.
Last year our Annual Meeting, held at Homecoming, had overwhelming participation. It truly is great to see the increased interest and participation. The Alumni Association has many initiatives, and its strategy is designed to support the Academy in its mission. Please join us at the Annual Meeting and learn more about some of our current initiatives and how to become involved.
"The challenge for the Annual Fund remains our participation level"
Enjoy the remainder of the summer, and please reach out to the Alumni Office or visit us online at mainemaritime.edu/mariners-forever/your-alumni-association.
We'd love to hear from you.
Best regards,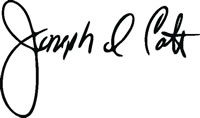 Joe Cote '82