Sports
Football is Back
FOOTBALL IS RETURNING to Maine Maritime Academy with varsity competition to begin in 2025. The Mariners will be in the NCAA Division III Football Program and compete in the Commonwealth Coast Conference. The Mariners will begin competition as a sub-varsity program in 2023 and continue to replenish the roster through a sub-varsity 2024 season.
In announcing the return of football, President Paul said, "We are proud to welcome students from across Maine and America to join in the rich tradition of Mariner football. This is an exciting time. As we restart the program there will be once-in-a-lifetime opportunities to participate at the college level and be part of the Academy's next chapter of success while earning a world-class degree leading to a high-paying career in a growing market."
Leading the Mariners back on the field will be Head Football Coach Calvin Powell. Over his fifteen-year coaching career Powell has built the experience MMA needs. He was part of a start-up program at Texas Wesleyan and coached for a season at SUNY Maritime. Most recently, Powell served as the Assistant Head Coach with oversight of the offensive line and run game in his second stint at Langston University in Oklahoma. The 2022 Langston Lions ranked fifth in the nation in rushing and twelfth in the nation in points per game with Powell coaching five all-conference players.
"I am excited Coach Powell has joined Team MMA to lead the return of Mariner Football," said Paul. "His past success as a coach, his personality, and the commitment he has pledged to our students seem like a perfect fit for continuing his trajectory of success here."
Powell is excited, too. "The first thing that attracted me to this job was the opportunity to bring football back. I'll put my imprint on the foundation of the program and that's exciting," said Powell. "I like recruiting a lot," he continued. "I think it's really neat to meet kids seventeen, eighteen years old. You learn about their goals, learn about their plans for their future. Then it's great to see their development, and I get to shake their hand at graduation."
Powell's thoughts are not just about the gridiron. "We all know what college athletics can do for young people. Giving them this experience and using the game to teach those life lessons is an important part of athletics."
It was a big job to bring football back. "Restarting the football program required funding from many sources," said Paul, "and a corresponding fundraising effort under the leadership of Len Tyler, past president of MMA, and Ed Scott '89. The fundraising team also included Stephen Dick '71, David Dodge '71, Bill Full '76, Larry Burrill '77, Wayne Norton '86, and Jeff Riedel '86. On behalf of Maine Maritime Academy, I extend the sincerest appreciation for this service.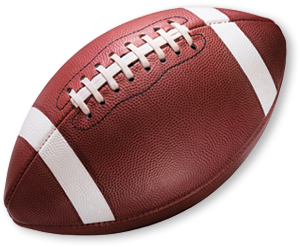 "I am proud of the alumni support and the Alfond Foundation who made this program possible. We are grateful that they share our vision for the future of athletics at Maine Maritime Academy. The Academy received $566,778 in gifts from a total of 155 donors."
Gregory Powell, Chairman of the Board of Trustees of the Harold Alfond Foundation said, "The Board of the Harold Alfond Foundation is pleased to support Maine Maritime Academy's efforts to bring football back to its campus. More importantly, the reinstatement of football at the Academy will enhance the number of Maine students who wish to earn a degree from Maine Maritime Academy while continuing to play football in college."