Accolades
MMA Receives High College Ranking
THE U.S. NEWS & WORLD REPORT rankings are closely followed by high school students and their families as they research colleges and make decisions. Their most recent rankings place Maine Maritime Academy third among the best regional colleges in the North region.*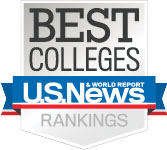 President Paul called this "A great achievement made possible by the dedication and hard work of faculty, staff, and students," while thanking them for their effort and dedication. "I hope you share my feelings of pride in seeing your hard work reflected in this high rank," he concluded.
The rankings also report the percentage of alumni who support their alma mater. Maine Maritime Academy excelled in this measure as well, topping the list of forty-five schools in the North region. The continuing connection so many of our alumni feel toward MMA is a strong measure of their appreciation for the education they received.
*The regional college rankings of U.S. News & World Report divide the country into four regions: North, South, Midwest, and West. The North region comprises the six New England states plus New York, Pennsylvania, New Jersey, Maryland, and Delaware.