honors & Accolades
NOAA Employee of the Year
The National Oceanic Atmospheric Administration (NOAA) chose Morgan Miller '09 as its Worldwide Employee of the Year for 2020. NOAA recognized Morgan for her "leadership, perseverance, and hard work in the observer program and on the employee council in challenging times during the global pandemic."
Morgan is from Freeport, Maine, and has been with NOAA since 2010. She is currently a fisheries biologist for Fisheries under the Sustainable Fisheries Division (SFD). She is stationed in Hawaii and lives in Honolulu. She trains observers on data collection, safety measures, species identification, and compliance issues. She analyzes data collected by observers aboard commercial longline fishing vessels and debriefs observers when they return from sea to ensure the quality of data and samples. She uses data validation programs to identify database anomalies and data entry errors to ensure data quality. She verifies the accuracy of catch, fishing effort, and fishing gear data.
Earlier in her NOAA career Morgan was a fisheries observer and received training and collected data for:
North Pacific GroundFish Observer Program
At-sea Hake Program
Alaska Department of Fish and Game Shellfish Program
Alaska Marine Mammal Observer Program
West Coast Catch Shares Observer Program
International Halibut Commission
Pacific Island Regions Observer Program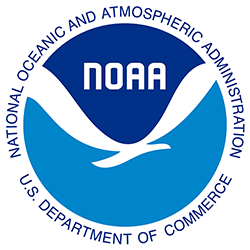 In 2021, Morgan enlisted in the United States Navy. Her rate is Information Technology Specialist, and she is currently a reservist at the Navy Reserve Center at Pearl Harbor.
Recalling her days at MMA, Morgan said her favorite classes were botany and ecology, adding that Dr. Jessica Muhlin and Dr. Jim McKenna were very influential in her career path. Dr. Muhlin remembers Morgan as one of her first students when she arrived at MMA. "One of the characteristics I admire most about Morgan," says Dr. Muhlin, "is that she has always been willing to reach out and ask for feedback, even after she graduated. A number of times she has left a message on my phone (Hawaii time!) checking in, letting me know what is happening with her, and asking me to be a sounding board for career ideas. I also remember Morgan was a member of the now-defunct Maritones, MMA's a cappella group. She often had a solo in the group's 'Castine Roads' rendition of 'Country Roads.'"
Morgan remains a proud MMA alum. "MMA exposed me to vessel and biology training which led me to where I am today. I was lucky to come to MMA for my education."█