Resident Assistant Appreciation
EACH YEAR, MMA hires a group of students to become Resident Assistants (RAs) and oversee the safety and community building within Curtis Hall and the Commons. These student leaders are trained in emergency response, event planning, mediation, suicide intervention, confrontation, and other areas. Some of their functions include serving in an on-duty/on-call rotation, running events throughout the year, opening and closing the buildings, and building communities and relationships with residents.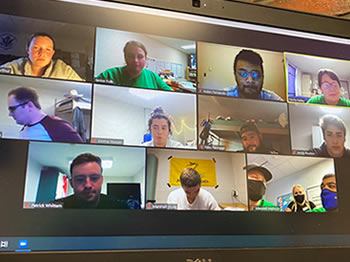 This year, a RA group of 12 has been met with challenges that no other staff has faced: acting on duty and conducting rounds in the midst of a pandemic, assisting with the early closing of Curtis and the Commons, many safety policy reminders, and community building in a time when face-to-face activities require more coordination.
On February 17, MMA recognized National RA Appreciation Day with words of gratitude for this incredible team. Many faculty, staff, and students noted their thanks for this group who has kept safety and a sense of community prioritized in a challenging time.
"It's not easy, not for everyone," said MTO major and RA Niko Racioppi. "But at the end of the day what helps you get through is being able to be that person who other people can count on."█
—By Janice Folk, Director of Residential Life and Student Activities
Photo: Courtesy of Janice Folk