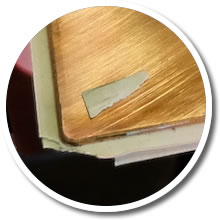 Devil in the Details
Every engineer from MMA knows a tiny thing can stop a big ship. Keeping a watchful eye and maintaining critical systems are taught in a variety of ways, but none more so than hands-on shipboard training.
Take the example Chief Engineer Sandy Cameron '84 shared as preparations were made for this year's training cruise — a broken, fingernail-sized chip (see bottom left in background photo) from a capacitor module's insulating board that separates two electrical conducting panels, which route 690+ volts each as part of the ship's electric propulsion motor drive system.
The broken chip was discovered during inspection and the module replaced, thereby preventing what could have been a catastrophic electrical arc that could halt the ship in the water.
"In the engine room, you have fuel, mechanical and electrical systems—all requiring a degree of condition that has to be spot-on in order to keep it running and everyone safe," Cameron says. "You can't learn that in the classroom. You have to experience it, and that is why the students are here."
Photo: Billy R. Sims