Leader
A Leap of Faith Leads to Rewarding Career
CAPT. HOLLY NAJARIAN '91 took a leap of faith during her freshman cruise and switched from deck to engine, and that leap made a huge impact on the direction of her career. For example, when she first entered the Coast Guard, she was in a marine inspector training billet. Learning ship systems and numerous regulations and procedures was much easier due to her engineering background.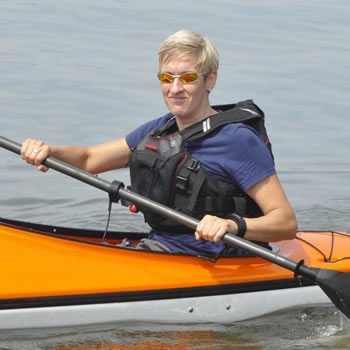 While at MMA, Najarian was involved with the regimental preparatory training, was the Academy's first female Regimental Operations Officer as well as the first female Navy ROTC battalion commander, played on the men's lacrosse team, and ran cross country. She remembers that even though she didn't feel like a "real" runner, Coach Dennis Weeks and his wife Carol inspired her, so much so that she would be running in the dark on the streets of Castine well after everyone else had finished.
Najarian's MMA experience allowed her to tackle challenging assignments from Portsmouth, NH to DC, Boston to Jax. In St. Petersburg, FL, she led all Coast Guard missions throughout Florida's western coast (600 nautical mile coastline and 3 major seaports), and exercised authorities as Captain of the Port, Officer in Charge Marine Inspection, Federal Maritime Security Coordinator, SAR Mission Coordinator and Activity Suspension Authority. She chaired the Area Maritime Security Committee, Harbor Safety & Security Committee, and Area Committee, and led an active duty, reserve, and civilian workforce with over 700 members. Having direct oversight of 6 Coast Guard cutters, 5 search and rescue stations, an Aids to Navigation Team, a medical clinic, a galley, a $4.7 million budget, and 7 CG properties, she also provided direct logistical support to 7 tenant commands.
St. Petersburg was a challenging tour, but she had the knowledge and Coast Guard staff to make it successful.
Working with the Coast Guard personnel and members of the maritime communities was the most rewarding part of her USCG career. "It was an amazing process to be part of a team, work together to solve problems, resolve issues, and ensure the safety of the maritime community and commerce," she says.
It's not all work with Najarian. While stationed in Connecticut, she earned her black belt in Tae Kwon Do. She currently lives in Florida and is able to enjoy the great weather along with great restaurants. She also runs, bikes, kayaks, cooks and spends time with her dogs. She also looks forward to getting back to Tae Kwon Do.
Since her retirement from the Coast Guard in 2019, she has done some consulting as well as expert witness work on maritime cases.█