service
Honoring History's Heroes
EVER SINCE HE WAS A YOUNG STUDENT at MMA, Anthony 'Dru' DiMattia '88 has loved maritime history. Back then, he looked forward to Friday afternoons when Professor Mayhew would regale his Oceanic History class with sea stories from the near and distant past.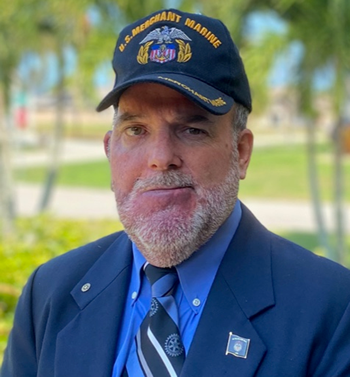 Now, DiMattia is himself helping write an essential chapter of that rich history. For over 15 years, he has been involved with the American Merchant Marine Veterans (AMMV). Since 1983, AMMV has worked to foster a sense of community among Merchant Mariners and raise awareness about the critical role that they have played throughout this nation's history. DiMattia's first encounter was with the local chapter near his home in southwest Florida, but he soon became invested in the organization's work on a national level.
As the all-volunteer organization's President, DiMattia has been integral in helping to tell the story of America's World War II veterans. "This group is disappearing," he says. "Many MMA graduates served in that war, and some were killed in action. Still, if you ask most people about our merchant marine, they haven't any idea what it is."
Years of hard work finally paid off in March of 2020 when the Merchant Mariners of World War II Congressional Gold Medal Act came into law. As an active member of the committee that designed the medal, DiMattia is looking forward to attending the virtual award ceremony in May when the Speaker of the House will first award the Congressional Gold Medal.
Having attained that milestone, AMMV is focused on its membership base and supporting mariners throughout the decades. "The Merchant Marine has been an important auxiliary to the Navy since 1936, but it has been neglected. It is screaming to right itself, but it will not do it on its own."
A primary goal is expanding the veteran status to those who participated in more recent conflicts. "Do I believe that mariners who sailed during the conflict in Korea and Vietnam deserve to be considered Veterans?" DiMattia asks. "Absolutely!"
The key to achieving the awareness that AMMV is dedicated to requires continual education and engagement. "The U.S. Merchant Marine remains a vital service and should be understood by the younger generation," he explains. By building public knowledge and encouraging others to be involved, DiMattia is helping to ensure and protect the legacy of America's brave and patriotic Merchant Marine.