Vision 20 | 20
In 2017 the Harold Alfond Foundation challenged Maine Maritime Academy to raise a cumulative total of $2.25 million over three fiscal years (July 1, 2017 – June 30, 2020) and increase our alumni participation rate to 20% by 2020. By the third and final year (July 1, 2019 and June 30, 2020) we would need to raise at least $750,000 from a minimum of 1,480 alumni donors.
Thanks to the generosity and spirit of 1,797 alumni and MMA's many other friends and donors,  $940,785 was contributed to the Annual Campaign in Fiscal Year 2020, bringing the three-year total to $2.75 million.
Alumni participation is an increasingly important metric of college success and with more than 24% of our alumni giving to the Annual Campaign, MMA again finds itself within the ranks of the most successful colleges in the United States.
Help keep the momentum in 2021!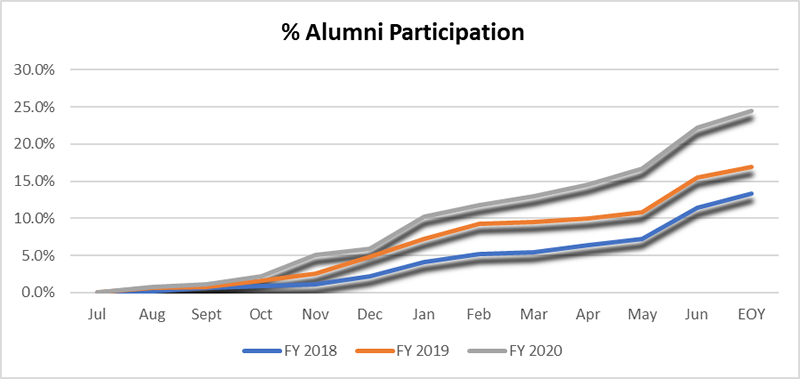 | CLASS OF | DONORS | LIVING ALUMNI | PERCENTAGES |
| --- | --- | --- | --- |
| 1943-1 | 0 | 0 | 0.00% |
| 1943-2 | 1 | 16 | 6.25% |
| 1944 | 1 | 6 | 16.67% |
| 1945 | 2 | 5 | 40.00% |
| 1946 | 2 | 11 | 18.18% |
| 1947 | 3 | 11 | 27.27% |
| 1949 | 5 | 9 | 55.56% |
| 1950 | 6 | 19 | 31.58% |
| 1951 | 5 | 14 | 35.71% |
| 1952 | 4 | 14 | 28.57% |
| 1953 | 12 | 22 | 54.55% |
| 1954 | 8 | 25 | 32.00% |
| 1955 | 11 | 24 | 45.83% |
| 1956 | 31 | 38 | 81.58% |
| 1957 | 12 | 28 | 42.86% |
| 1958 | 13 | 30 | 43.33% |
| 1959 | 20 | 28 | 71.43% |
| 1960 | 13 | 36 | 36.11% |
| 1961 | 15 | 37 | 40.54% |
| 1962 | 20 | 54 | 37.04% |
| 1964 | 33 | 65 | 50.77% |
| 1965 | 31 | 60 | 51.67% |
| 1966 | 29 | 66 | 43.94% |
| 1967 | 55 | 65 | 84.62% |
| 1968 | 39 | 88 | 44.32% |
| 1969 | 21 | 70 | 30.00% |
| 1970 | 20 | 79 | 25.32% |
| 1971 | 52 | 81 | 64.20% |
| 1972 | 25 | 78 | 32.05% |
| 1973 | 20 | 87 | 22.99% |
| 1974 | 45 | 86 | 52.33% |
| 1975 | 16 | 50 | 32.00% |
| 1976 | 30 | 72 | 41.67% |
| 1977 | 40 | 75 | 53.33% |
| 1978 | 26 | 102 | 25.49% |
| 1979 | 48 | 118 | 40.68% |
| 1980 | 28 | 103 | 27.18% |
| 1981 | 23 | 106 | 21.70% |
| 1982 | 38 | 98 | 38.78% |
| 1983 | 27 | 110 | 24.55% |
| 1984 | 65 | 121 | 53.72% |
| 1985 | 47 | 112 | 41.96% |
| 1986 | 60 | 117 | 51.28% |
| 1987 | 32 | 122 | 26.23% |
| 1988 | 39 | 95 | 41.05% |
| 1989 | 18 | 93 | 19.35% |
| 1990 | 12 | 81 | 14.81% |
| 1991 | 12 | 83 | 14.46% |
| 1992 | 16 | 105 | 15.24% |
| 1993 | 37 | 103 | 35.92% |
| 1994 | 23 | 126 | 18.25% |
| 1995 | 31 | 133 | 23.31% |
| 1996 | 38 | 141 | 26.95% |
| 1997 | 20 | 145 | 13.79% |
| 1998 | 19 | 106 | 17.92% |
| 1999 | 29 | 128 | 22.66% |
| 2000 | 28 | 117 | 23.93% |
| 2001 | 9 | 103 | 8.74% |
| 2002 | 9 | 136 | 6.62% |
| 2003 | 15 | 135 | 11.11% |
| 2004 | 14 | 121 | 11.57% |
| 2005 | 28 | 126 | 22.22% |
| 2006 | 32 | 142 | 22.54% |
| 2007 | 23 | 137 | 16.79% |
| 2008 | 30 | 183 | 16.39% |
| 2009 | 15 | 140 | 10.71% |
| 2010 | 24 | 156 | 15.38% |
| 2011 | 23 | 189 | 12.17% |
| 2012 | 12 | 129 | 9.30% |
| 2013 | 15 | 177 | 8.47% |
| 2014 | 16 | 156 | 10.26% |
| 2015 | 19 | 182 | 10.44% |
| 2016 | 13 | 218 | 5.96% |
| 2017 | 18 | 235 | 7.66% |
| 2018 | 26 | 245 | 10.61% |
| 2019 | 26 | 211 | 12.32% |
| 2020 | 74 | 200 | 37.00% |
| Total | 1797 | 7335 | 24.50% |