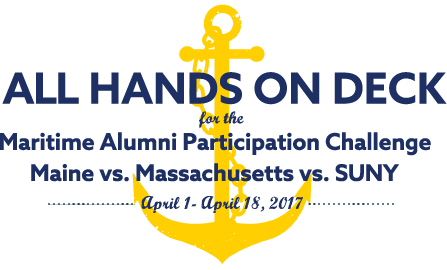 Every gift has been counted, and you did it. We are proud and excited to announce that Maine Maritime Academy has won the Maritime Alumni Participation Challenge!
The Maritime Alumni Participation Challenge ended at midnight on April 18, 2017, and we not only won, we broke our record of more than $65,000 in gifts raised! We also accomplished that in only 18 days (as opposed to the 30 days in years past).


You showed that MMA could lead the way from day one of the Challenge, and now we're the winners of bragging rights and the pride of being #1 again this year. Every gift counted, and you rose to the Challenge.
We've always believed we were the best, but this is another way that we can be proud to say, We Are Mariners! Mariners Forever.
Here are the final statistics for the three participating institutions:

Final Stats / Participants / Percent
---