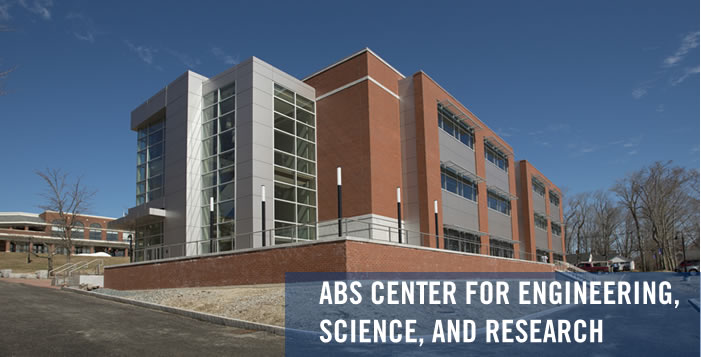 – Campaign Completed –
On May 1, 2015, the Maine Maritime Academy community celebrated the completion of the first academic building to be constructed on the campus in 30 years: the ABS Center for Engineering, Science, and Research.
The ABS Center is an essential facility for students and faculty who are increasingly engaged in cutting-edge research on energy technologies, on the development of clean fuel alternatives, and other industry-relevant scientific study. The ABS Center offers modern classrooms and research spaces that will enhance the applied science program and strengthen Maine Maritime Academy's worldwide reputation as a marine engineering center of excellence.
Funded initially by a lead gift of $2.5 million from the American Bureau of Shipping (ABS), the largest corporate gift to have been received by the Academy, financial support also came from very generous gifts, pledges and challenge grants from alumni, friends of the college, foundations, and businesses (please see the Honor Roll for a complete list of donors to the project). Building costs were also paid for in part by Maine voters who approved state bond funding of $4.5 million in November, 2013 toward the public-private partnership to construct the new facility.
Facts and figures:
Architect: Harriman Associates
General Contractor: Nickerson & O'Day, Inc.
Size: 3-story, 30,000-square-foot facility
Groundbreaking: September 21, 2013
Construction timeline: approximately 12 months, beginning in January, 2014
First classes: January 12, 2015 following a ribbon-cutting ceremony for students
"We support Maine Maritime Academy's mission to provide the best education possible," said Christopher Wiernicki, Chairman, President and CEO of ABS at the building dedication ceremony on May 1, 2015. "We are invested in the young people who are making lifetime careers in the maritime industry, and the ABS Center for Engineering, Science, and Research represents our aspirations for the future leaders of the maritime world."
American Bureau of Shipping
Founded in 1862, ABS is a leading international classification society devoted to
promoting the security of life and property and preserving the natural environment
through the development and verification of standards for the design, construction
and operational maintenance of marine and offshore assets. For more information, visit ABS online.