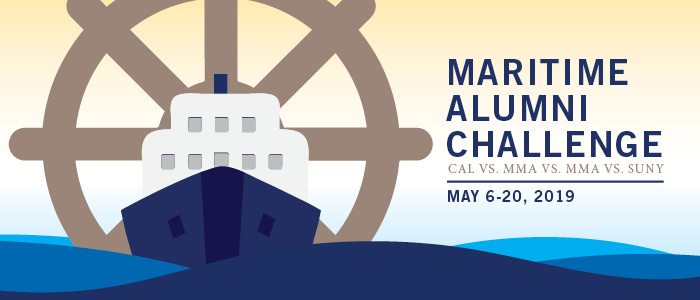 The California, Maine, Massachusetts, and SUNY Maritime Academies are competing to see who can generate, in two weeks' time, the greatest number of alumni gifts. Every donation from our alumni during this time counts toward helping Maine Maritime Academy lead the way and win! It is not about which school raises the most money, it's who finishes with the most contributions — either online, by phone, by mail, or in person… Every alumni gift counts!
The winner will hold the title of Maritime Alumni Challenge Champion and will be awarded a trophy to display for one year. The school in last place will be tasked with creating the trophy. We won last year; let's do it again!
Make your contribution online and encourage your fellow alumni to do the same. You may prefer to mail your gift to the MMA Advancement Office, 1 Pleasant Street, Castine, ME 04420 or call 207-326-2182. Gifts count for the challenge when made between May 6-20, 2019. Thanks for helping to set MMA on course to win this year's Maritime Alumni Challenge competition!
Current Stats – May 17
---