Student Profile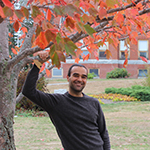 Samuel Paquette '20
Hometown: Scarborough, Maine
Major: Vessel Operations and Technology
Extracurricular involvement: Outdoor Adventure Club, Student Veterans Association


What has been your favorite class at MMA?
My favorite classes thus far have been Sailing, Intro to Vessel Ops, and Intro to Nautical Science, because there is considerable time spent out on the water. The Penobscot bay is gorgeous, and it's also a great time getting a hands-on learning experience to solidify what you've learned in the classrooms.
What do you love about the MMA community?
I love how laid back all the locals are. I have met so many people around town, and everyone is extremely friendly and ready to have a conversation. I find myself waving to people I've never met before just to pass on the good energy. I have a dog as an Emotional Support Companion and other dog owners around town are always enthusiastic about letting them run around and play together. Having the option of having my dog, Piro, stay with me on campus has been extremely beneficial for me, it really helps me focus on my studies. I also love that the veterans community is growing and that there is a lot of opportunity to get involved and interact with other veterans from different generations and walks of life.
What are your hopes for the future?
My hopes for the future are that I can keep pushing myself to my highest potential and setting new goals and accomplishments. I want to leave MMA knowing I didn't hold myself back, and I came out a more mature and well-rounded individual. I would also like to encourage other nontraditional students and veterans to challenge themselves in an environment like this; it's a different experience than a traditional college.
Why did you pick MMA?
I chose MMA because it focuses on molding its students specifically for their career paths. The world is seventy percent ocean, so job security is a benefit of the maritime industry. The location of the college is remote, but I enjoy the peace and wonderful scenery.
What would you say to a prospective MMA student?
Commit to MMA and don't take the opportunity for granted. Look at it as a business decision, building your potential and skill set for achieving a successful and secure future. Why sit at a desk from nine-to-five, when you can be on the water? There are some sacrifices, but the rewards are extensive. Stay focused and committed to your goals, because Maine Maritime Academy is a stepping stone towards greatness.