Student Profile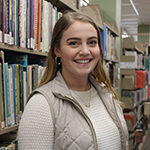 Rachel Bunker '20
Hometown: Ellsworth, Maine
Major: International Business & Logistics
Extracurricular involvement: Women's Volleyball, Campus Activities Board, Honor Board, Title IX Committee


What has been your favorite class at MMA?
So far, my favorite class has been Business Logistics. It really opened my eyes to the impact that logistics has on the world and how important it is to have efficient processes that can achieve a company's desired outcome.
What do you love about the MMA community?
I love MMA's small size the most. I know my classmates and professors very well and that was important to me when I was looking at colleges. I did not want to be just a number in a large lecture hall! I wanted to be able to ask questions and develop relationships across campus. MMA's small size has allowed me to do that.
What are your hopes for the future?
I hope that my summer internship will be both enjoyable and helpful in guiding me towards what exactly I want to do. I also hope to find a job that I love after graduation and to grow in that company.
Why did you pick MMA?
I picked MMA for its small size, location, and job placement rates. I knew that MMA would give me the tools that I need to succeed once I graduate.
What would you say to a prospective MMA student?
I would say that even though choosing colleges is difficult, it is important to go with your gut feeling. I strongly encourage anyone who is interested in MMA to schedule a campus visit and to talk with current students about their experience. I did that and after leaving campus that day I told my parents that MMA was where I wanted to be. I have never once regretted my decision to come here!