Student Profile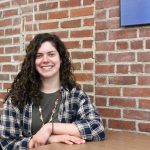 Rachel Borisko '19
Hometown: Atkinson, NH
Major: Marine Biology/Small Vessel Operations
Extracurricular involvement: Schooner Crew, Outdoor Adventure Club
What has been your favorite class at MMA?
I don't think I could pick one favorite, but my top three favorite classes are: Marine Zoology, Natural History, and Intro to Vessel Operations. The first two were the best biology courses I have taken at MMA because of the variety of topics that were discussed and the thoroughness of the professors, who clearly enjoyed teaching the classes. I also enjoyed Intro to Vessel Operations because it gave students a great opportunity to drive a variety of small vessels and gain experience reading the water and understanding how to handle vessels in many different situations.  
What do you love about the MMA community?
The MMA community is unique; it is made up of a small group of people, no student can go unnoticed. Professors, students, and staff members all want to see MMA students succeed and will do a lot to help a student get where she or he needs to be. There are so many opportunities and resources available at MMA. Students can challenge themselves, access help if needed, and become involved.
What are your hopes for the future?
After MMA, I am hoping to work on a variety of vessels, including workboats and scientific research vessels that will allow me to travel as much as possible. I also enjoy teaching, so I may pursue a higher degree, or, ideally, find a job that incorporates both teaching biology and sailing.
Why did you pick MMA?
Before MMA, I was interested in marine biology for some time, so when my neighbor (an MMA alum) informed me of MMA's Marine Bio/SVO program, I thought the program would be the perfect opportunity to learn a great combination of skills that I could use after graduating. MMA offers a variety of opportunities for students to gain experience for future careers. Being a job-oriented school, classes at MMA intend to train, challenge, and prepare students for the "real world" and future jobs. I appreciate that.
What would you say to a prospective MMA student?
If you are looking to go to a small school that offers a variety of interactive and challenging classes, MMA could be for you. Once here, make sure to visit the MMA waterfront often. There are so many opportunities to get out on the water and learn. Even in the winter you can stay inside and continue to learn about vessel maintenance. The waterfront staff are great and always love to have students help with different projects and activities such as Supplemental Seamanship (time reserved for students to go out in boats), Schooner Crew, Sailing Team, and Power Crew There are plenty of opportunities to learn, have fun, and gain experience on the water.