Student Profile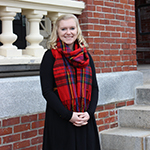 Olivia Burke '18
Hometown: China, Maine
Major: International Business and Logistics
Extracurricular involvement: Women's Cross Country, Woodsmen, Residential Assistant


What has been your favorite class at MMA?
Production & Operations with Professor Jain. Operations management is a vital part to any successful business within logistics and supply chain. I have enjoyed learning about the material through Professor Jain's personal experiences, as well as hands-on projects and activities in class.
What do you love about the MMA community?
There is a constant feeling of family and support. No matter your upbringing, background, choice of study, or future plans, there is always someone in the MMA community to offer a helping hand. The Castine community also plays a large role in making MMA what it is today, and encouraging students to achieve their goals.
What are your hopes for the future?
Currently, I am working towards earning a Co-op for Summer 2017. I am hopeful I will find myself with a company I thoroughly enjoy working for, and potentially securing a full-time position postgraduation. Although I am looking to stay within New England, I am not opposed to traveling wherever my job may take me!
Why did you pick MMA?
When searching for the perfect college, I sought out small schools with a business major. Although I visited and applied to two other colleges, I found MMA to be the absolute perfect fit academically and socially. MMA fit all my needs for a small school environment, while providing me with a specialized International Business & Logistics program I love.
What would you say to a prospective MMA student?
Stay true to yourself. Nothing is given, everything is earned. Appreciate where you are, what you have, and be proud of each goal you set out to achieve.