Student Profile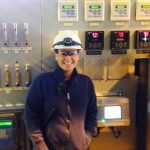 Kati Burdet '18
Hometown: Skowhegan, Maine
Major: Power Engineering Technology
Extracurricular involvement: Society of Women Engineers, Curriculum Committee
What has been your favorite class at MMA?
Steam Turbines with Professor Sarnacki. It's a great class. I learned a wealth of knowledge which I will be able to use in practical application in the Power Engineering field.
What do you love about the MMA community?
I spent a year at a large university and then I transferred here. It was refreshing to come to a campus where there are small classes and you can create a personal relationship with all of your professors. This school is very career focused rather than degree focused and prepares you well for the future.
What are your hopes for the future?
In the future I hope to work on the corporate side of power. I want to first understand the industry from the bottom up so that I can then become an effective leader.
Why did you pick MMA?
I took a tour of a power plant and was fascinated with how power was generated. I knew at that moment that a career in the power industry was my goal and MMA offered the perfect program for me to achieve this.
What would you say to a prospective MMA student?
MMA prepares you for the future and your career like no other school. You will walk away with a great education and a support system for the rest of your life. The opportunities graduating from MMA are infinite and it is an honor to attend this school.