Student Profile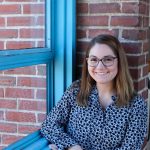 Katelyn Smith '20
Hometown: Poland, ME
Major: Marine Science/Small Vessel Operations
Extracurricular involvement: Yoga Club, Women on the Water, Summer Sailing Team
What has been your favorite class at MMA?
So far, my favorite class has been geology.  I have completed Physical Geology and I am currently in Marine Geology.  I enjoy learning about how the earth works over millions of years.  Geology is everywhere and it's fun to see the phenomenons out in the real world that we learn about in class.
What do you love about the MMA community?
I love how kind and welcoming everybody is no matter where they come from.  It's not just a Maine thing, it's an MMA thing and I think that's special.  I never realize how unique that is until I go and visit other schools.  We like each other and it makes school that much more enjoyable.
What are your hopes for the future?
I hope to earn a job that utilizes both my Marine Science degree and the 200-ton mates license that I will earn through the SVO program. A career as a Marine Technician would be ideal.  I really will be happy anywhere as long as I stay a member of the greater science community.
Why did you pick MMA
I chose MMA when I was a sophomore in high school.  My marine biology class took a field trip to MMA and it felt right.  I have always wanted to study Marine Science and it wasn't until my freshman year here that I decided to pursue a degree in Small Vessel Operations as well.  MMA has opened up opportunities for me that I never even thought of.
What would you say to a prospective MMA student?
I would say that choosing schools can be very tough and scary (I did consider other schools), but you will know within the first few months whether it is the right college for you.  It is a great feeling to find a place that welcomes you and helps you acclimate to college. MMA has opened up so many doors for me, both academically and socially. I'm not only getting a science degree and a license, I'm growing into a scientist and mariner in every aspect.