Student Profile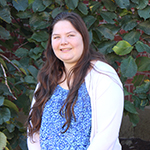 Cassandra Lopez '19
Hometown: Sebec, Maine  
Major: Marine Biology & Small Vessel Operations
Extracurricular involvement: Alpha Phi Omega

What has been your favorite class at MMA?
My favorite class taken so far has been Zoology because Professor McKenna made it a fun and engaging class. We were often in the field which offered real hands-on experience and an introduction to different science equipment which will be beneficial in the future. This semester my favorite class is Introduction to Vessel Operations because we get to operate different boats, learn how to tow, and gain experience that works towards my 200 ton Coast Guard license.
What do you love about the MMA community?
I love how friendly everybody is. By joining Alpha Phi Omega, I have had the opportunity to work with residents of Castine & the Town Hall and they have been very kind. When you come to school at MMA, you become part of the Castine community not just the MMA community.
What are your hopes for the future?
After earning my undergraduate degree, I plan on attending graduate school for my Ph.D. I want to become a shark biologist and study the migration and behavioral patterns of Great Whites, Mako, or Thresher sharks.
Why did you pick MMA?
I picked MMA because it had the major I was looking for and offered me real hands-on experience with boats. MMA has a wonderful waterfront and a Wet Lab that students like me can collect specimens for. The campus is small enough that I am recognized as a person and not just a number. Here at MMA, we have a wonderful set of professors.
What would you say to a prospective MMA student?
Do not limit yourself. College is a whole new experience and you want to make the most out of it. I recommend joining a club and participating in campus-wide events because this is the time you will find your life-long best friends.  MMA has a great program set up for unlimited and limited tonnage license students and you will leave here feeling well equipped to go into the maritime industry.