Student Profile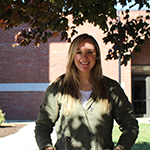 Alayne Felix '19
Hometown: Mahopac, New York
Major: Power Engineering Technology
Extracurricular involvement: Women's Basketball Team, Society of Women Engineers
What has been your favorite class at MMA?
Thus far, my favorite class at MMA has been Power Equipment Lab. I enjoyed this class so much because it took the fundamentals of engineering that we learned previously and added a more hands-on approach to understanding them.
What do you love about the MMA community?
The MMA community is a small, tight-knit place with people who genuinely care about your success. There are plenty of resources to help you succeed here and people who have real life experience with what they are teaching.
What are your hopes for the future?
I am not entirely sure where I will be in four years. By looking at the alumni and how successful they are, I can only hope to follow in their footsteps and get a job where I can take the knowledge I gained here and apply it there.
Why did you pick MMA?
I chose MMA because I knew that it was a unique school that could ensure a successful future for me. From the location being on a small, beautiful peninsula to the teaching methods being mostly hands on, I felt like this was the best place for me to further my education. I had heard nothing but great things about the school both from the public view and alumni perspective. I had no intentions of wasting the great opportunity that I had in front of me.
What would you say to a prospective MMA student?
I would say that MMA is a very unique school. If you are willing to put in the time and effort, you will succeed. People here genuinely care about your understanding of the subject matter that will help you be successful in your future work environment.