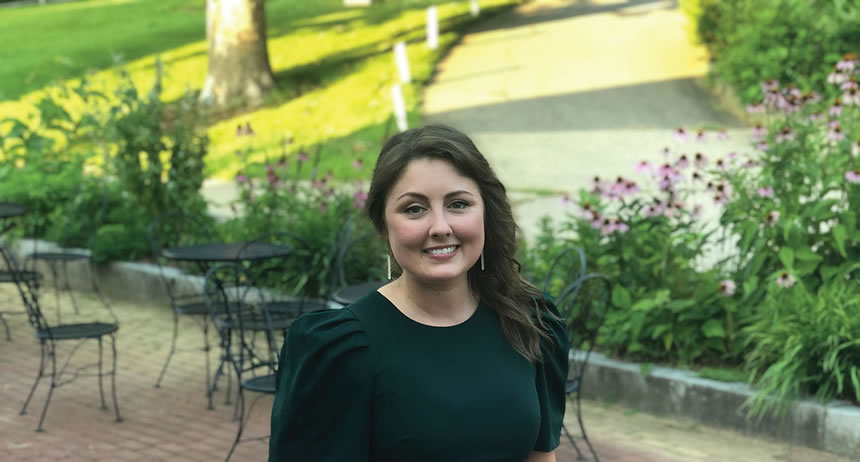 entrepreneur
Connecting Shippers with Tech
Ariele Fowler '11 fell in love with Castine early on. Growing up in Oakland, Maine, Fowler spent summers at her family's camp in Penobscot. "Coming into town was a big deal and seeing the campus made a huge impression on me," she says. "When the time came to apply to college, MMA just made sense. I applied early decision and didn't look anywhere else. I was pretty set on what I wanted to do."
Her determination paid off.
Fowler was accepted into the Ocean Studies department and excelled in the school's unique, hands-on environment. In 2011, she graduated magna cum laude with a B.S. in Marine Biology. With her degree in hand, Fowler quickly set her sights on a new goal. However, rather than pursuing a traditional science career path, Fowler decided to remain on campus to earn an M.S. in International Logistics Management.
"The transition between the two was surprisingly easy," she remembers. "The thought processes involved in logistics and science are very similar. I learned how to think in my undergraduate program and then applied those logic skills to real-life situations during the graduate program."
After graduating in 2012, Fowler joined the team at Combustion Components Associates, Inc., an environmental engineering company in Connecticut. "Working in a small, family-run company gave me the chance to gain experience at every level, dealing with inventory systems and shipping product," she says.
"Some days I was shipping out tiny packages of replacement parts and some days I was negotiating giant duct systems through multiple states. It really gave me a nitty-gritty understanding of what I had learned in class."
"There are so many nuances to freight management," she says. "You really have to do the work in order to understand and improve the systems."
Fowler has capitalized on that understanding and in 2016, transitioned into a new role at WIN Business Services, where she now serves as a Product Manager. "When people come to me with a problem, I can help them solve it because I have had that problem before," she explains.
"WIN is a very collaborative work environment," Fowler says, noting her perspective is enhanced by what her colleagues can contribute. "We've been able to leverage years of experience across the industry and because of that, we've been able to grow."
WIN recently transitioned to a for-purchase software model, using cutting-edge technology to connect shippers and carriers. "The difference with our technology is that we're not a broker at all. We don't get involved with who is chosen as a carrier, we just want to make sure that our clients have options."
Fowler credits her education at MMA with giving her a wide-ranging perspective and a depth of knowledge that she draws on every day. "My experiences allow me to think in broad terms about a variety of different business scenarios," she explains.
In the coming months, Fowler and her team will continue to build out their product and expand their market footprint. As the company grows, Fowler continues to grow with it. "I like to be in environments where I am always learning," she says. "It has been exciting to watch the company evolve and to have a hand in it."█
—By Emily Baer
Photo: courtesy of Ariele Fowler