May 15 – June 2, 2023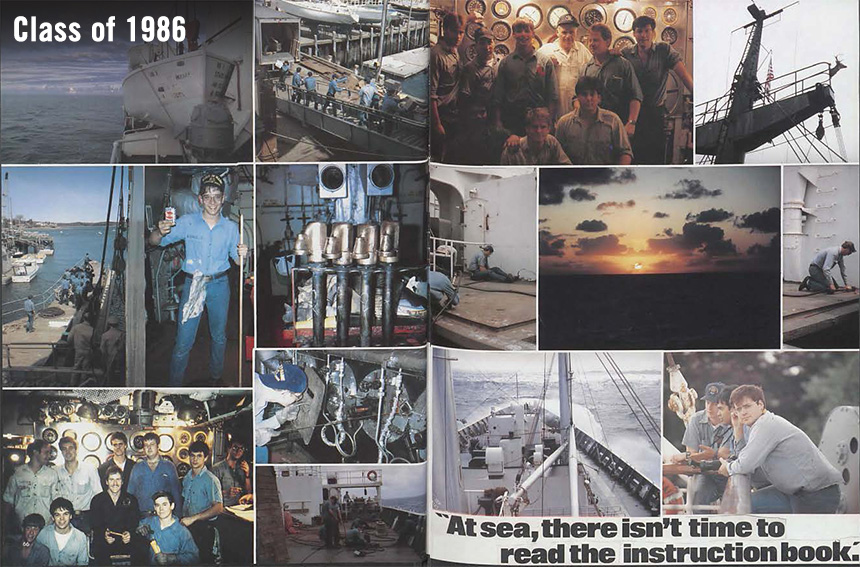 Congratulations to the Class of 1986 and the Decade of the 1950's! You are the Captains of the Classes and the Diamonds of the Decades! Winners of the First Annual Maine Maritime Academy Alumni Participation Challenge!
A very special shout out to the Classes of 1952 and 1965! Your Classes respectively had 60% and 58% participation. You were both mighty in your endeavors.
Thank you all for participating! Your support makes a tremendous impact on the students of MMA; the future leaders of tomorrow!
Updated 6/7/23
| CLASS OF | CLASS DONORS | ALUMNI COUNT | PARTICIPATION |
| --- | --- | --- | --- |
| 1943-1 | 0 | 0 | 0.00% |
| 1943-2 | 2 | 5 | 40.00% |
| 1944 | 0 | 2 | 0.00% |
| 1945 | 0 | 2 | 0.00% |
| 1946 | 1 | 5 | 20.00% |
| 1947 | 2 | 7 | 28.57% |
| 1949 | 2 | 7 | 28.57% |
| 1950 | 5 | 10 | 50.00% |
| 1951 | 3 | 9 | 33.33% |
| 1952 | 3 | 5 | 60.00% |
| 1953 | 3 | 14 | 21.43% |
| 1954 | 4 | 16 | 25.00% |
| 1955 | 7 | 20 | 35.00% |
| 1956 | 13 | 28 | 46.43% |
| 1957 | 1 | 19 | 5.26% |
| 1958 | 10 | 25 | 40.00% |
| 1959 | 8 | 24 | 33.33% |
| 1960 | 8 | 32 | 25.00% |
| 1961 | 8 | 35 | 22.86% |
| 1962 | 13 | 50 | 26.00% |
| 1964 | 22 | 60 | 36.67% |
| 1965 | 33 | 57 | 57.89% |
| 1966 | 20 | 58 | 34.48% |
| 1967 | 28 | 59 | 47.46% |
| 1968 | 20 | 81 | 24.69% |
| 1969 | 12 | 67 | 17.91% |
| 1970 | 14 | 86 | 16.28% |
| 1971 | 20 | 81 | 24.69% |
| 1972 | 16 | 73 | 21.92% |
| 1973 | 18 | 84 | 21.43% |
| 1974 | 12 | 81 | 14.81% |
| 1975 | 8 | 51 | 15.69% |
| 1976 | 37 | 75 | 49.33% |
| 1977 | 26 | 75 | 34.67% |
| 1978 | 19 | 102 | 18.63% |
| 1979 | 22 | 117 | 18.80% |
| 1980 | 18 | 100 | 18.00% |
| 1981 | 14 | 107 | 13.08% |
| 1982 | 20 | 99 | 20.20% |
| 1983 | 18 | 109 | 16.51% |
| 1984 | 42 | 125 | 33.60% |
| 1985 | 22 | 114 | 19.30% |
| 1986 | 71 | 116 | 61.21% |
| 1987 | 23 | 120 | 19.17% |
| 1988 | 24 | 93 | 25.81% |
| 1989 | 31 | 94 | 32.98% |
| 1990 | 11 | 79 | 13.92% |
| 1991 | 6 | 83 | 7.23% |
| 1992 | 9 | 106 | 8.49% |
| 1993 | 16 | 102 | 15.69% |
| 1994 | 18 | 128 | 14.06% |
| 1995 | 9 | 134 | 6.72% |
| 1996 | 8 | 135 | 5.93% |
| 1997 | 5 | 146 | 3.42% |
| 1998 | 8 | 112 | 7.14% |
| 1999 | 9 | 129 | 6.98% |
| 2000 | 9 | 123 | 7.32% |
| 2001 | 5 | 107 | 4.67% |
| 2002 | 7 | 140 | 5.00% |
| 2003 | 11 | 137 | 8.03% |
| 2004 | 5 | 126 | 3.97% |
| 2005 | 12 | 124 | 9.68% |
| 2006 | 17 | 158 | 10.76% |
| 2007 | 4 | 139 | 2.88% |
| 2008 | 12 | 186 | 6.45% |
| 2009 | 6 | 146 | 4.11% |
| 2010 | 8 | 152 | 5.26% |
| 2011 | 9 | 185 | 4.86% |
| 2012 | 5 | 132 | 3.79% |
| 2013 | 6 | 169 | 3.55% |
| 2014 | 7 | 155 | 4.52% |
| 2015 | 11 | 182 | 6.04% |
| 2016 | 6 | 213 | 2.82% |
| 2017 | 5 | 225 | 2.22% |
| 2018 | 6 | 234 | 2.56% |
| 2019 | 6 | 199 | 3.02% |
| 2020 | 6 | 210 | 2.86% |
| 2021 | 7 | 184 | 3.80% |
| 2022 | 4 | 183 | 2.19% |
| 2023 | 43 | 200 | 21.50% |
| Total | 1019 | 7762 | 13.13% |