STCW Personal Survival Techniques (Ocean Survival)
2019 Dates
August 15-16   |   Register Now
Fall Dates Coming Soon
Price: $360

Participants: Minimum 1
This course is intended for individuals who have never completed Personal Survival Techniques in the past.  This course is conducted in both the classroom and pool.  Course covers the following: emergency situations, evacuation, survival craft, personal life saving equipment, and survival at sea.  There is a written exam for theory and practical assessments are assessed at the Academy's indoor pool by the instructor.
*Please note, after January 1, 2017 this course (along with Fire Fighting) are only valid for 5 years.  For those who attended these courses in the past, will have to take a Basic Training Refresher or Revalidation course for their 5-year renewals upon expiration in 2016 and after.
USCG Approval:
Applicants who successfully complete our Personal Survival Techniques course will satisfy the Personal Survival Techniques training competency requirements of STCW Code Section A- VI/1  and 46 CFR 11.302(a)(1) and 46 CFR 12.602(a)(1).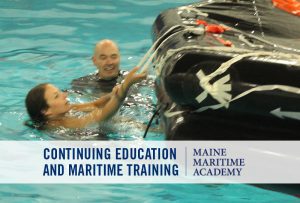 ---
*Merchant Mariner license holders must contact the US Coast Guard directly for particulars concerning their licenses upgrade or re-certification questions: Call the National Maritime Center at 1-888-427-5662 or visit online at Merchant Mariner Licensing and Documentation.
At this time there are no classes scheduled. Please check back for updates or email
continuinged@mma.edu
with any questions.