FAST RESCUE BOAT (MEMACE-193)
Course will be offered Spring 2020
Price: $1,300
Participants: Max 8
Upon meeting the minimum standard of competence in fast rescue boats, the trainee will be competent to handle and take charge of such boats during or after launch in adverse weather and sea conditions. They will also be able to operate a fast rescue boat engine; learn the correct use of all locating devices, including communication and signaling equipment between the rescue boat and a helicopter and the ship; and how to carry out search patterns.
USCG Approval:
Applicants who successfully complete our Fast Rescue Coat course will satisfy:
Training requirements 46 CFR 12.617 (a)(3) and STCW Code Section A-VI/2.
Competency demonstration requirements of 46 CFR 12.617(a)(4) and STCW Code table A-VI/2-2 for an STCW endorsement for Proficiency in Fast Rescue Boats.
Performed the equivalent of all Tasks to NVIC 05-14 "Assessment Guidelines for Proficiency in Fast Rescue Boats."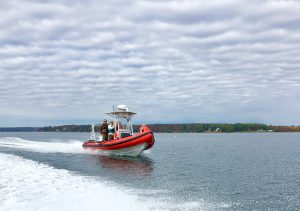 ---
*Merchant Mariner license holders must contact the US Coast Guard directly for particulars concerning their licenses upgrade or re-certification questions: Call the National Maritime Center at 1-888-427-5662 or visit online at Merchant Mariner Licensing and Documentation.