BASIC TRAINING REFRESHER
We are offering a 2-hour Basic Fire Fighting Refresher Lecture via video teleconference for students needing their Basic Training Refresher certificate. This lecture is designed to reduce a student's required time on campus when completing their certification. Students are required to finish the hands-on portions of the course on MMA's campus before October 31, 2020.
Basic Training Refresher and Advanced Fire Fighting Refresher  |  $1,250
August 11-14   |   Register Now
Basic Training Refresher   |    $700
August 11 – 14   |   Register Now
At this time there are no classes scheduled. Please check back for updates or email
continuinged@mma.edu
with any questions.
This course is open to all seafarers who have previously been certified in Basic Safety Training. Must be capable of meeting the physical and professional eligibility requirements for STCW certification, have at least entry-level mariner documents from USCG or a foreign flag state whose mariner credentialing organization will accept USCG documents, but do not have one year of sea time in the last five years for renewal of their endorsement for BST.
The course covers all the competencies of Personal Survival Techniques, Personal Safety & Social Responsibilities, Basic Fire Fighting, and First Aid & CPR renewal.
Please bring an extra set of clothes as you will get wet in the Academy's indoor pool.  Showers are available after class.
This course does not satisfy the requirements for the Advanced Fire Fighting Refresher components.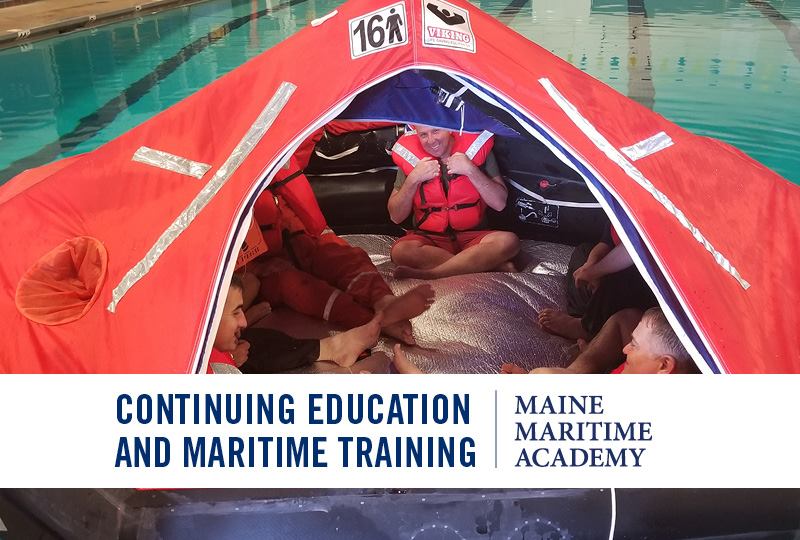 ---
Companies who are interested in sending groups of their employees to
MMA can contact us for any of our courses and we will make arrangements specific to your needs. If you prefer onsite training, please ask us about training we can provide it at your facility.
*Merchant Mariner license holders must contact the US Coast Guard directly for particulars concerning their licenses upgrade or re-certification questions: Call the National Maritime Center at 1-888-427-5662 or visit online at Merchant Mariner Licensing and Documentation.